Estimated read time: 2-3 minutes
This archived news story is available only for your personal, non-commercial use. Information in the story may be outdated or superseded by additional information. Reading or replaying the story in its archived form does not constitute a republication of the story.
Tonya Papanikolas reportingForget Thanksgiving, it was almost Christmas for a Draper man who received an unexpected check in the mail. He knew the $2 million check from the state had to be a mistake.
The man told us he thought about all the ways he could spend the money, from buying a Hummer to donating it to charity. He said he was tempted to cash the check but didn't want to end up in prison. So in the end, he did the right thing and returned it, after having a little fun.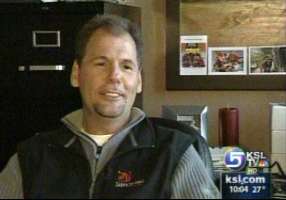 When Jerry Mika overpaid the state to reactivate his real estate license, he expected to receive a $15 refund in the mail; but what he received was a huge surprise!
"I just started jumping up and down, giggling. And I was running around, 'Pack your bags, we're leaving,'" he said.
The check was for $2.5 million, and it was real. He did call up a few friends to tell them he was a millionaire, but says he knew he couldn't keep the money. Still, that didn't stop friends from brainstorming ways to try.
"All your buddies, everybody tries to think of an idea how you can do it," Mika said.
After a week, Mika says he took the check back to where he thought it came from. "I went down, said, 'I'd like to return this.' She says, 'How come you haven't cashed this yet?'"
It turns out he was at the county offices. A week later, he finally returned it to the state and made himself a copy.
The Utah Department of Commerce says the mistake occurred when an accounting tech entered a seven-digit receipt number into a new computer system instead of the check amount.
Francine Giani, executive director of the Utah Dept. of Commerce says, "I wish I could tell you it was a computer error. It was not. It was a human error. This is highly unusual. It's never happened before."
Giani says the department has added a number of controls to make sure this doesn't happen again. She's grateful Mika returned the millions. But the state still has one piece of unfinished business.
"Jerry's had the check for several weeks and has not gotten his $15 refund back. So we still owe him money, but the check that he next gets will be much cheaper," Giani says.
It wouldn't have taken long for the state to realize what happened because it reviews checks every three weeks. From now on, though, any check issued over $500 will have to be approved first.
×
Most recent Utah stories