Estimated read time: 3-4 minutes
This archived news story is available only for your personal, non-commercial use. Information in the story may be outdated or superseded by additional information. Reading or replaying the story in its archived form does not constitute a republication of the story.
SALT LAKE CITY — Thousands of Utah students are heading back to school this week as the lion's share of school districts, colleges and universities open their doors for the 2012-13 academic year.
While many parents welcome the relative calm after their children board the school bus, most Utah families are likely feeling the impact a new school year has on their wallets. This year, several school districts have raised the price of school lunch — by as much as a 53 percent increase for middle-schoolers in Salt Lake City School District — not to mention the extra fees are associated with parking permits, extracurricular sports and clubs.
In Granite School District, participation in a sports program can cost anywhere from $45 for tennis to $95 for football, according to the district fee schedule. Cheerleading and drill team carry a participation fee of $35, but that price does not include the uniforms selected by the individual school teams.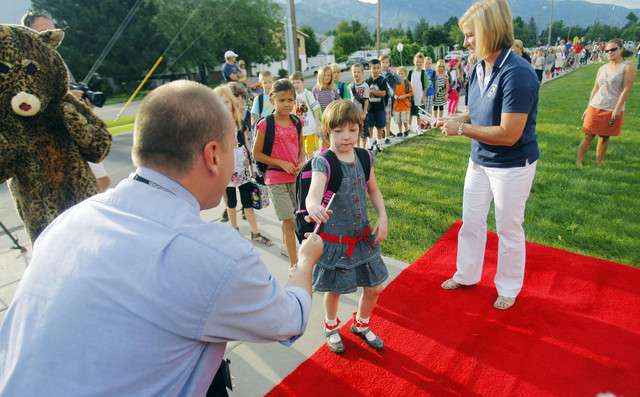 In Jordan School District, renting a musical instrument for band classes costs $80, a driver education course costs $95 and a high school yearbook in the spring will run students a tab of $42.75, according to the district fee schedule.
Then there's the cost of back-to-school clothing and supplies. According to the National Retail Foundation, back-to-school shopping is the second-largest consumer event of the year, behind only the winter holiday season.
School shoppers in the U.S., including both K-12 and college students, are expected to spend $83 billion this year, according to the foundation's 2012 Back-To-School Spending Survey. The average parent with a child in kindergarten through 12th grade will spend $688.62 on back-to-school purchases, up from $603.63 in 2011.
The National Retail Foundation report also showed that parents' purchases are divided between clothing and electronic equipment. Nearly six out of every 10 parents — 59.6 percent — said they would be investing in some sort of electronic device, an increase from the 51.9 percent who planned to do so in 2011.
Schools are also investing in electronics for students. Weber School District spent $125,000 to give a classroom set of iPads to each of its 28 elementary schools. District spokesman Nate Taggart said the district implemented an iPad pilot program at two elementary schools and decided to extend the program district-wide after seeing great results.
"It's a great educational tool," Taggart said. "Kids are used to using these devices now."
---
This is a celebration. I wish we could do this all the time.
–Butler Elementary Principal Christy Waddell
---
The district leased a total of 980 iPads, or approximately 35 for each school. Taggart said teachers will be able to decide what apps to use on the devices to supplement class curriculum.
Meanwhile, the administration of Butler Elementary in Cottonwood Heights took the opportunity to celebrate and rolled out a red carpet Monday for new and returning students. Children received high-fives from Butler's mascot, Boomer the Bobcat, and were cheered by faculty and staff as they entered the school on their first day.
"It's really cool," said third-grade student Sander Nelson.
Butler Elementary Principal Christy Waddell said the staff wanted to show students how important they were and to get them excited for the year.
"This is a celebration," she said. "It's a great way to start the year. I wish we could do this all the time."
Contributing: Nkoyo Iyamba
×
Photos
Most recent Utah stories