Estimated read time: 2-3 minutes
This archived news story is available only for your personal, non-commercial use. Information in the story may be outdated or superseded by additional information. Reading or replaying the story in its archived form does not constitute a republication of the story.
Jed Boal reportingA Utah man was nearly beaten to death over the weekend in Connecticut by a man in a jealous rage.
Erich Tabert, 26, and his girlfriend were severely beaten by the woman's estranged husband. He broke into her home in Connecticut and attacked them with a metal pipe while they slept. Tabert's friends say it's tough news to swallow.
Lt. Chris Corbett of the Waterbury, Connecticut Police Department said, "It was a very violent attack. It was a brutal scene."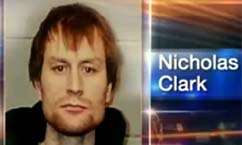 Police say Nicholas Clark broke into the home of his wife, Christa, in Waterbury, Conn. at 4 a.m. Saturday. He attacked the woman and her boyfriend, Erich Tabert, who grew up in Cottonwood Heights, Utah. Police say Clark beat both of them badly with a pipe.
Christa Clark is in stable condition. Police now say Tabert is brain dead and may not survive.
Tabert's friend, Fernando Funes, said, "I couldn't believe it. He's a docile person, wouldn't hurt a fly."
Funes and Brooks Turville grew up playing soccer with Tabert.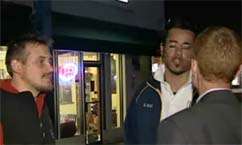 Turville said, "The kid didn't have an enemy in the world. The fact that something like this could happen is hard to comprehend."
They say he moved to Connecticut more than a month ago.
Funes described Tabert as, "Mellow. Shy. He had a lot going for him, too. Really good guy."
Turville added, "We were good friends, and it's hard to see this could happen to him."
Nicholas and Christa Clark were getting a divorce. Police say the man had a record of domestic violence, and she had a restraining order against him.
Tabert worked at a Midvale soccer store on and off for years.
His former co-worker, Shaun Kirkham, said, "It made me sick to think that someone would go do this. The guy is a complete coward. It's sad to see there's that kind of evil in the world."
Kirkham worked and played with Tabert. "We love Erich. He's a great guy, and I hope the best for him and his family."
In a blog entry from late August, Tabert writes about moving east to be closer to Christa, a woman he recently met.
Clark faces multiple charges in the attack, but will be charged with murder if Tabert does not survive.
×
Most recent Utah stories