Estimated read time: 1-2 minutes
This archived news story is available only for your personal, non-commercial use. Information in the story may be outdated or superseded by additional information. Reading or replaying the story in its archived form does not constitute a republication of the story.
(KSL News) There are less than two weeks left in the anchor chair for KSL's Dick Nourse.
As we bid him farewell after 43 years at KSL, it amazes us that despite all of his success, Dick has never let it give him a "big head."
Well, at least not very often.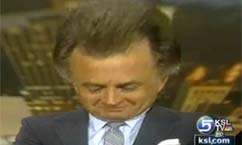 Actually, the crew back in the control room had fun with some effects. Dick had some big hair, but nothing like that.
The crew can make you look bad, but usually it's when they're just messing around. Back in the mid-1980s the KSL production crew was messing around and recorded a music video spoofing the Chicago Bears' "Superbowl Shuffle."
The production crew sang, "Now that's what's happenin'! We are 5's production crew, shufflin' on down and bringin' it to you. We are the people you never see behind the scenes on your TV. We think we're better at what we do than all those folks at channel 2. Now we're not cocky but one thing more; we beat the socks off of channel 4."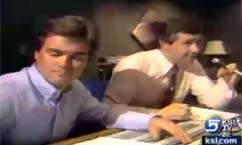 Former KSL anchor Don Olsen said, "Steve, did we get a good recording?"
Former KSL sportscaster Steve Cyphers answered, "Yeah, as soon as I get the tape back on the reel."
And Dick asked, "You guys about finished so I can clean up in here?"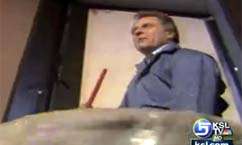 That video included cameo appearances by former news anchors Shelley Thomas and Don Olsen, and former KSL sportscasters Craig Bolerjack and Steve Cyphers, with Dick on the cleanup crew.
×
Related links
Most recent Utah stories