Estimated read time: 21-22 minutes
This archived news story is available only for your personal, non-commercial use. Information in the story may be outdated or superseded by additional information. Reading or replaying the story in its archived form does not constitute a republication of the story.
TAMPA, Fla. — Fri., Aug. 31 (10:40 a.m.) Working hard to make sure the Republican National Convention was memorable, the Republican National Committee was likely not expecting its surprise guest to set a trend.
You've heard of "Tebowing." Well, now there is "Eastwooding." It's a simple thing to do, and even dogs can do it. All you have to do is point at an empty chair and take a picture of it. President Obama likes his version of "Eastwooding" better, but the masses have spoken.
Our Photo Wall has a few pictures of people "Eastwooding." Send me your pictures of "Eastwooding" and I'll add it to our gallery.
---
(11:57 p.m.) It was one of the most bizarre speeches (if it can even me called that) during a political convention. The one and only Clint Eastwood was tonight's surprise guest speaker, and it certainly wasn't anything short of a surprise.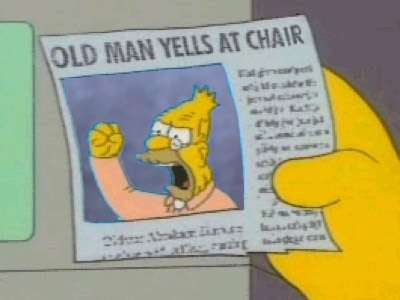 Mumbling along the way, Eastwood decided to do what can only be described as the ramblings of a mad man's improv. Eastwood had an empty chair placed beside him, which was supposed to have President Barack Obama sitting it.
And although the President was not actually sitting in the chair, Eastwood went on to have a normal (if it can even be called that) conversation with the invisible Obama. Several times during the speech, invisible Obama even interjected his own comments.
The improv act had several Romney staffers a little worried, but they managed to get through it and Romney later delivered his speech. However, shortly after the odd exchange between the President and Eastwood, several Twitter accounts were created, including @InvisibleObama and @ClintsChair. Additionally, Invisible Obama and Clint Eastwood trended higher on Twitter than Mitt Romney for most of the evening.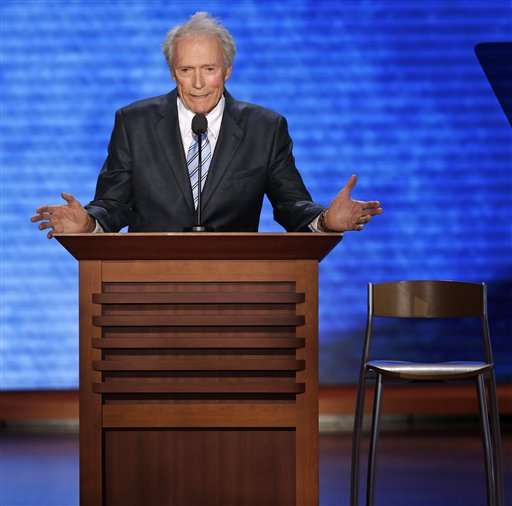 While the decision to let Eastwood speak is still confusing for most people, it left a memorable, albeit strange, impression on the audience in the Tampa Bay Times Forum and at home. If you watched it, you'll likely never forget that exchange. The audience loved the actor for making their day (or night).
Admittedly, I laughed a few times and now follow the above mentioned Twitter accounts.
---
(11:27 p.m.) Mitt Romney is officially the Republican nominee and the Republican National Convention has come to a close.
The speech by Romney appeared to start out slow, with Romney trying to find his timing with the crowd. But as his speech moved forward, Romney hit his stride, finding a good balance in his delivery and his reaction with the crowd.
Romney showed a personal side, getting somewhat emotional when he spoke of his father's death. Tears were shed by many members of the audience who were moved by the emotional evening. Romney even told some jokes, which included a jab about President Barack Obama slowing the rise of the ocean.
While it was expected the convention would highlight Romney's LDS faith, few expected to hear several speeches about Romney's service as a bishop and his compassion for the people he served. Several stories were told about Romney's service, which had audience members in tears.
Romney's campaign hoped to share a personal side to Romney, and as a whole, the campaign succeeded.
---
(7:03 p.m.) The Republican National Convention will shortly come to a close, with the party looking to take the momentum from the week's events into November.
#poll
There have been several motivating speeches given this week, with Utah delegates always coming back to the speeches delivered by Mia Love, Ann Romney, Gov. Chris Christie, Condoleezza Rice and vice presidential nominee Paul Ryan.
As I mentioned in yesterday's post before the convention, it is imperative for the Romney campaign and Republicans in general, that tonight ends on a high, with Mitt Romney delivering the best speech of the convention. It will be a tough act, but Gov. Gary Herbert says he expects it to happen.
"I'm here to tell you that he will rock the house better than anybody," he said earlier today.
Many, especially the Democrats, will look to tear apart Romney's speech. And undoubtedly, some sort of fact check will be provided to ensure both sides of the issue are covered. Paul Ryan is being criticized for his statements regarding the GE plant that shut down under Obama's watch. The plant actually was closed before Obama took office. The above video by the AP fact checks some of Ryan's statements. Expect a similar one after Romney speaks.
---
(2:18 p.m.) Following her speech at the Republican National Convention Tuesday night, 4th Congressional District candidate Mia Love's Wikipedia page was vandalized. The vandalism included a hateful and racially-charged message, calling Love a "House N-----" and other derogatory terms.
The Wikipedia page was quickly edited to remove the derogatory words, but proved hate still abounds in politics.
"I haven't seen any of it personally, but there is no place for that," said Rep. Jason Chaffetz. "Mia Love is a very accomplished mother and mayor. As a candidate, she defeated a well-rounded field. She's a Republican nominee and she's got a great story about her immigrant heritage. I think it's an important story and I'm glad they put it out there on the big stage. Shame on anyone who tries to tear it down."
"Let's fight on the issues and not on that," added Chaffetz. "You don't have to have that sort of derogatory, tear-somebody-down type of mentality. There's a lot on the line, but we've got to be careful to shun those who try to denigrate the process and the politics of personal destruction. You've got to put those aside and say that doesn't represent the majority, those are some outliers trying to cause pain and scare people. It's just not acceptable."
---
Mia can stand up for herself, but a lot of us will stand shoulder to shoulder with her. She'll be fine.
–Rep. Jason Chaffetz
---
Asked if he had any words of encouragement for Love, Chaffetz said: "Mia can stand up for herself, but a lot of us will stand shoulder to shoulder with her. She'll be fine."
---
(10:39 a.m.) Florida Sen. Marco Rubio just concluded his address before the Utah delegation. Before he got into his prepared remarks, he told the crowd of delegates that he is a fan of BYU and used to lip sync to Donny and Marie Osmond with his sister and cousin. The group called themselves "The Sunshine Counsins."
He said he's been to Utah on numerous occasions, but one of his best memories was visiting the Osmond studio, which he thought was the "closest thing to Hollywood."
When Sen. Rubio lived in Las Vegas, he said he enjoyed watching BYU come to the state every other year. "We would go to the airport and wait for them," he said. "I have pictures of the players getting off of the plane. We went and met them at the airport and grew up watching them."
Sen. Rubio talked about the need to elect Mitt Romney because of his ability to fix things. He said if he could turn around the 2002 Olympics, he is more than qualified to lead the country as president of the United States.
"He understands it, not because he studied it out of a textbook, he lived it," Sen. Rubio said. "He's succeeded in it. He has seen (businesses) succeed and he's seen them fail. And that gives him a unique perspective at the presidency."
Sen. Rubio talked about Romney as a family man, saying he has his priorities right in life, which is a reason he should be seen as a role model.
"His most important job that he will ever have, and it's the most important job I've ever had, is to be a husband and a father," he said. "And I promise you, if you get those jobs wrong, nothing else in your life makes sense. And he has gotten those jobs right and has been a role model."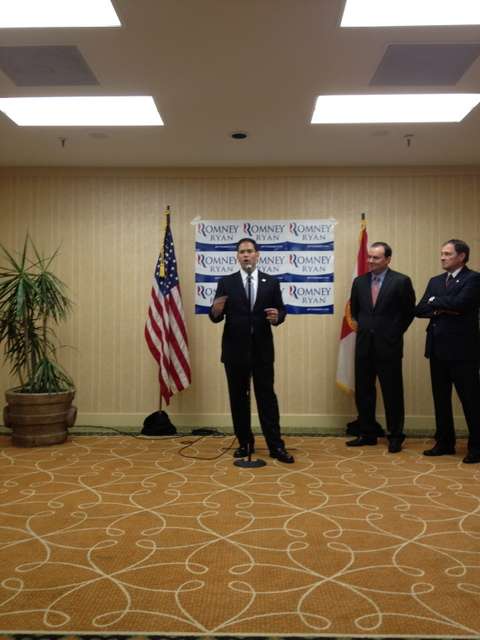 "Everywhere he's been, he has made everything around him better because he has given of his time and his talents," he added. "And now he offers himself for public service for our country. We should be excited that people of this caliber are willing to go through what it takes to serve our country."
Following his remarks, Sen. Rubio stayed to take a picture with every delegate that wanted one, which was everyone.
Sen. Rubio will be speaking at tonight's concluding session of the convention. He was asked to give the introductory speech to Mitt Romney. He said he hopes he can do a good job.
---
Thurs., Aug. 30 (8:02 a.m.) It's the final day of the Republican National Convention, which means a busy day for the Utah delegation.
Many of the delegates are sleep deprived from the late nights and the early mornings, but it doesn't seem to stop their enthusiasm for Mitt Romney and the Republican Party.
The morning will start with a breakfast featuring John Swallow as the morning's speaker. Following Swallow's remarks, the delegation will get the opportunity to meet with Florida Sen. Marco Rubio and the producer of the film 2016.
The delegates will have a luncheon with Sen. Orrin Hatch before preparing for the evening events at the Tampa Bay Times Forum, where they will hear Republican nominee Mitt Romney address the nation.
And if that was not enough, many of the delegates will go to an area hotel after the convention to watch the remainder of the BYU vs. Washington State football game. It should be a long day, but don't expect anyone here to complain.
---
(8:58 p.m.) Vice presidential candidate Paul Ryan will be tonight's keynote speaker, introducing himself to a nation watching.
While many who follow politics religiously are familiar with Ryan and his budget plan, casual viewers will get a view into the Romney-Ryan ticket for the first time. Often, voters don't make up their mind until after the convention, which makes the speeches by Ryan and Romney important for the Republican Party.
Four years ago, Sen. John McCain announced former Alaska Gov. Sarah Palin as his running mate. She was a relatively unknown politico, but her place in the Republican Party was mostly defined by her convention speech in 2008, which featured phrases like "lipstick on a pig" and "hockey mom."
Will Paul Ryan define his role in the Republican Party in tonight's speech? In excerpts released prior to his speech, Ryan is expected to talk about optimism, opportunity and growth.
Here is an excerpt from his speech tonight:
"The right that makes all the difference now is the right to choose our own leaders. You are entitled to the clearest possible choice because the time for choosing is drawing near. So here is our pledge. We will not duck the tough issues — we will lead. We will not spend four years blaming others — we will take responsibility. We will not try to replace our founding principles. The work ahead will be hard. These times demand the best of us — all of us, but we can do this. Together, we can do this."
---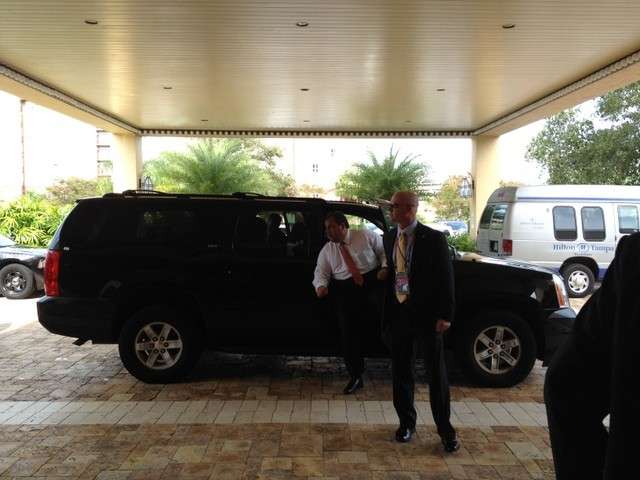 (5:04 p.m.) Today has been a casual day for the Utah delegation. Following their morning brunch with Gov. Gary Herbert and New Jersey Gov. Chris Christie, many of the delegates went to the beach. Others checked out the city of Tampa.
Following their morning at the beach, several delegates gathered to celebrate Utah Republican Chairman Thomas Wright's birthday at a local restaurant.
The delegates will be leaving shortly to go to the Tampa Bay Time Forum to hear day two of the Republican National Convention, where vice presidential candidate Paul Ryan will give the night's concluding speech.
---
Wed., Aug. 29 (9:44 a.m.) Utah Gov. Gary Herbert and New Jersey Gov. Chris Christie will be speaking before the Utah delegation brunch this morning.
The event has been closed to the media for the time being, but we're working to get something. Gov. Christie gave Tuesday night's blunt keynote address, calling out the Obama administration for his selfishness and being a part of the complacent status quo.
The media was informed there was a miscommunication between Gov. Christie's campaign and the people setting up the event. When arriving at the delegates hotel, Gov. Christie said it was not his decision to close the brunch to media.
Watch the Republican National Convention live

Watch the Republican National Convention live on ksl.com. Click HERE to watch.
Several delegates said the speech was really inspiring and motivating.
---
(10:46 p.m.) Utah delegates anxiously waited for the opportunity to officially nominate Mitt Romney and to hear the speeches of Mia Love and Ann Romney.
Love and Romney both delivered strong speeches, with a crowd easily engaged. The delegates got what they wanted and more. Love's speech appeared to set the tone of the convention as Republicans championed the phrase "We Built It," while Ann Romney brought the human aspect into a political world where policies and politics are dissected.
Most importantly, Romney's speech addressed the so-called flaws or weaknesses many voters see in Mitt Romney. Ann delicately delivered the speech the Romney campaign needed.
---
(6:47 p.m.) While state delegates were in the Tampa Bay Times Forum making the nomination of Mitt Romney official, Ron Paul supporters took to the streets. The protests started at Lykes Gaslight Square Park in downtown Tampa, where protesters joined hands and shouted praises to Paul.
The protesters had a two minute moment of silence in honor of the delegates in the convention center holding strong to the Ron Paul message. The group marched throughout the streets in an effort to gain support and to get in front of the convention center. Along the way, the group multiplied before setting up in front of a secured perimeter by the Tampa Bay Times Forum.
As protesters marched and multiplied, so did the security that followed them to their final stop. However, the final stop for the protesters turned out to be a field by the convention center that was set up strictly for protesters and media members and their satellite trucks.
The park was away from the crowds walking around the street, which angered a part of the group. The disagreement about where to protest led to a minor argument between some of the members who left to protest elsewhere. One photojournalist watching the scene unfold said it looked like "a desperate attempt at sanity."
Although the roll call vote was in favor of Mitt Romney, thus officially making him the party's nominee, the Ron Paul supporters refuse to go down quietly.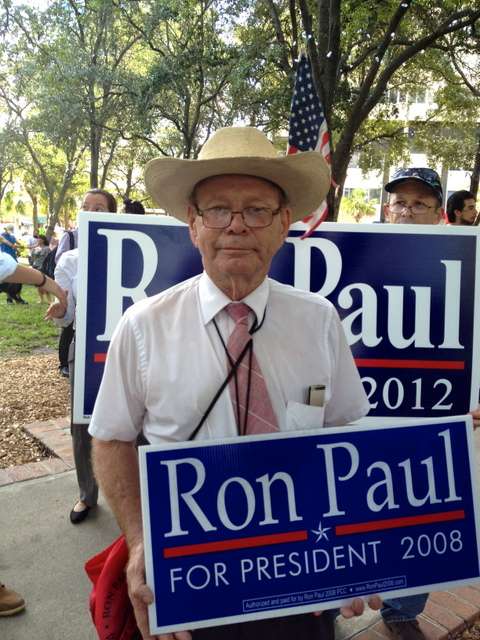 ---
(3:32 p.m.) Rep. Jason Chaffetz just concluded his short remarks at the Republican National Convention. He said America was built on the sweat and blood of people who took ownership for the country.
Chaffetz also attacked President Obama for the ever-increasing national debt.
"America is in trouble," Chaffetz started. "Each day we spend more than $600 million. Excessive regulations choke businesses, our tax code punishes success, discourages entrepreneurs and stifles growth. President Obama's solution: more government, more taxes. This is not the American dream. Our nation is not just one good tax increase away from prosperity."
When Chaffetz gave his remarks, the federal debt clock installed by the Republican National Committee had already increased by $2.7 billion.
---
(10:32 a.m.) The delegation breakfast has concluded and there was a lot of excitement for tonight's vote to nominate Mitt Romney and to hear Mia Love give her prime time speech.
Texas Senate candidate Ted Cruz talked to the delegates about the importance of electing Romney as president. He said there has been a movement to return to conservative principles around the nation, which started in 2010 and the election of Sen. Mike Lee.
"There is a great awakening that is sweeping this country," he said. "I think what we're seeing right now is similar to the Reagan revolution in 1980."
The breakfast included another Romney surrogate, which turned out to be his son Matt Romney. This is the second day in a row that one of Romney's children has spoken before the Utah delegation. If the current trend keeps up, as delegates here hope, Mitt Romney will soon be speaking at their breakfast.
Instead of addressing the several policy issues from the campaign trail, Matt Romney shared examples of how his father is always trying to fix things. He said his father has spent his life working to make things better. "My dad likes to fix things and he's very good at it."
In an interview after the breakfast, Romney said his father's personality will be emphasized at the convention, beginning with Ann Romney's speech Tuesday night.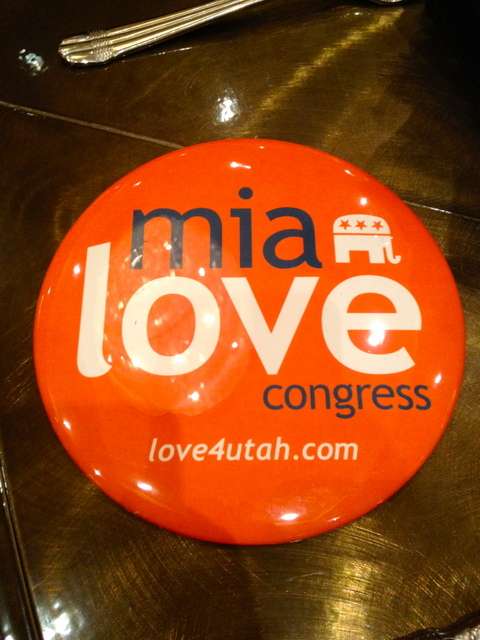 Delegates have the choice today to either spend the afternoon at Busch Gardens or to spend the entire day at the convention. The afternoon session of the convention will mostly be all policy, but will feature a speech from Rep. Jason Chaffetz at approximately 3:30 p.m.
---
Tues., Aug. 28 (8:04 a.m.) The Utah delegation is having their morning breakfast at the Hilton hotel, with 4th Congressional District candidate Mia Love being the focus.
Love has garnered a lot of attention, not only with the Utah delegation, but with national media looking into who Love is. The New York Times is at the breakfast looking to define the up-and-coming Republican.
The busy day for Love began yesterday as she spent much of the day preparing for her prime time speech Tuesday. Today will be a proud moment for the Utah delegation as one of their own speaks before the nation.
---
(8:25 p.m.) It was just announced that Mitt Romney will be arriving in Tampa Tuesday. Romney wasn't expected to be in Florida until Thursday, so the change of plans comes as a welcomed surprise for the many delegates waiting for the convention to get under way.
Many of the Utah delegates I've spoken to are hopeful Romney will visit them. They're pulling all the strings they can to try to make it happen. Campaign officials, however, have not indicated what Romney will be doing while in Tampa. It is likely he will be here to see his wife Ann speak.
---
(7:47 p.m.) Protestors took to the streets Monday afternoon near the secured perimeter around the Tampa Bay Times Forum where the convention will be held.
Although the protesting crowds were significant, the police officers, S.W.A.T. teams and National Guard soldiers easily outnumbered the crowd. Protestors shouted and screamed, but the day was free of any major incidents.
The crowd of protestors was expected to be in the thousands, but many were turned away because of rain. Only about 400 protestors showed up Monday.
---
(2:49 p.m.) The Republican National Convention has officially begun. But with the events for Monday being cancelled, everyone is trying to find something to do.
Delegates had planned to spend Monday at the Tampa Bay Times Forum listening to speakers, partaking in the excitement and officially nominating Mitt Romney as the party's nominee in the roll call vote. Utah delegates were excited to hear Rep. Jason Chaffetz and 4th Congressional District candidate Mia Love give their remarks before a national audience. But all of that will have to be pushed into Tuesday's packed day of events.
Instead, Utah's delegation went to a quick movie before the night's events resume. It's a rare moment of down time in a packed week of events; however, the excitement and dedication to the Republican Party remains strong. All of the delegates are excited to officially make Mitt Romney their nominee.
---
(11:53 a.m.) State delegates from Arizona, Hawaii and Utah all came together to create sanitary kits and back to school kits for the victims of Hurricane Isaac, which is on path to hit Louisiana. Attorney General Mark Shurtleff, former attorney general candidate Sean Reyes, Sen. Mike Lee and Rep. Jason Chaffetz all helped take part in the service project.
When I talked to Sean Reyes, he talked about the service opportunities being a great experience. He said it's a great example of how Utah leads the country in serving others. Jokingly, Reyes said he might skip some of the convention to perform more service. Reyes also led BYU fans in the school's fight song. Utah fans obviously objected to the song.
I talked to a delegate from Hawaii who said he heard of the service project and wanted to be a part of the action. He said the Hawaii delegation wanted to make the city of Tampa a better place.
---
(10:25 a.m.) The delegation's "Omelets with Orrin" breakfast featured several speakers honoring Sen. Orrin Hatch, including Gov. Gary Herbert, Sen. Mike Lee, Attorney General Mark Shurtleff and Josh Romney, son of Mitt Romney.
Josh Romney
As rain came down in and around Tampa Monday morning Josh Romney, who lives with his family in Millcreek and has considered running for office in Utah, said the same enthusiasm voters had for Obama four years ago has been transferred to his father.
"I have yet to meet someone who says, 'I voted for (2008 GOP nominee Arizona Sen. John) McCain four years ago and this time, I'm going for Obama,' " Josh Romney said. "The same thing President Obama had four years ago, we've got it now."
At a breakfast meeting to honor Sen. Orrin Hatch and kickoff the day for Utah delegation, Utah GOP Chairman Thomas Wright showed a brief presentation outlining how Romney can win the presidency by taking swing states like Nevada, Indiana and Virginia along the I-80 corridor, one of the scenarios mapped out by the Romney campaign.
Wright said the "I-80 plan" banks on Republican gains in those states in the 2010 election as well as declines in Obama's job approval rating and support for his health care plan.
With the first day of the four-day convention cut short by Tropical Storm Isaac, the Utah delegation was set to spend the rest of the morning in their west shore hotel assembling 1,000 hygiene kits.
Related stories at the Deseret News:
Sen. Lee said he has always looked up to Sen. Hatch. As a teenager, he said he had two pictures hanging in his room: an autographed picture of Karl Malone and picture of he and Sen. Hatch together. Sen. Lee also told a story about never getting mail as a missionary, except for a letter he got from Sen. Hatch encouraging him in his missionary efforts. The letter contained a $10 check that Sen. Lee has had ever since.
Shurtleff gave probably the most emotional speech, saying Sen. Hatch was the best thing for the state of Utah. "Senator Hatch serves because he loves his country and he loves you."
Sen. Hatch was thankful for the breakfast, saying, "I wonder if I have to die now to justify all this."
The delegation will now get in some work clothes and perform a service project for the victims of Hurricane Isaac.
---
Mon., Aug. 27 (8:24 a.m.) The Utah delegation got things going early Monday morning honoring Sen. Orrin Hatch at their breakfast called "Omelets with Orrin."
The breakfast will feature several speakers honoring the legacy of Sen. Hatch. Following the breakfast, the delegation will perform a service project for the victims of what could be Hurricane Isaac.
---
(4:44 p.m.) The Ron Paul rally has concluded and I must say I'm impressed with the supporters who travel throughout the United States to hear him speak. It's a completely different experience watching Paul of 2008 to the Paul of 2012. The support and dedication to his message of liberty is impressive and has grown.
Nearly everyone I spoke with was educated about his platform. They can all recite it, but more importantly, they know what it means. Even though Romney will be given the party's nomination, they're optimistic about the future.
While I see this as Paul's last run at the presidency, I think his supporters are encouraged by the similar message promoted by Paul's son, Sen. Rand Paul. When Rand Paul stood before the crowd tonight, the entire arena started chanting "Paul '16."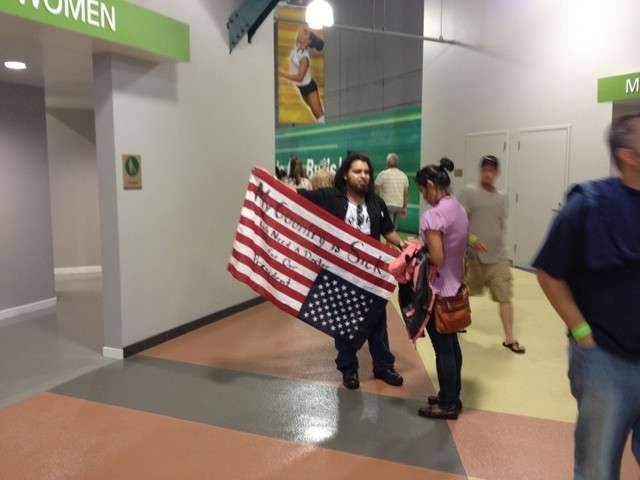 Don't be surprised to see the name Paul in 2016.
---
Sun., Aug. 26 (11:44 a.m.) I'm at the Ron Paul "We are the Future" rally, which is being held at the USF Sun Dome. The rally is intended to show support for Paul's message and to ensure the message is heard before the Republican National Convention begins Tuesday.
I talked to several people who traveled from Ohio and Virginia to hear Paul speak. They said they understand Mitt Romney will likely become the party's nominee, but Paul's message would go beyond the 2012 presidential race.
Master of Ceremonies Doug Wead gave a rousing speech to get the crowd going, not that it needed it. He talked about the several points of Paul's campaign that has so many people at the rally. He concluded his remarks talking about the government making sure the waitress is taxed on her tips, but the federal government is free to do as they please. The statement got the biggest cheer from the crowd, and was followed by the crowd chanting, "End the fed."
The rally is intended to be approximately four hours, with Sen. Rand Paul and Rep. Ron Paul giving the final remarks.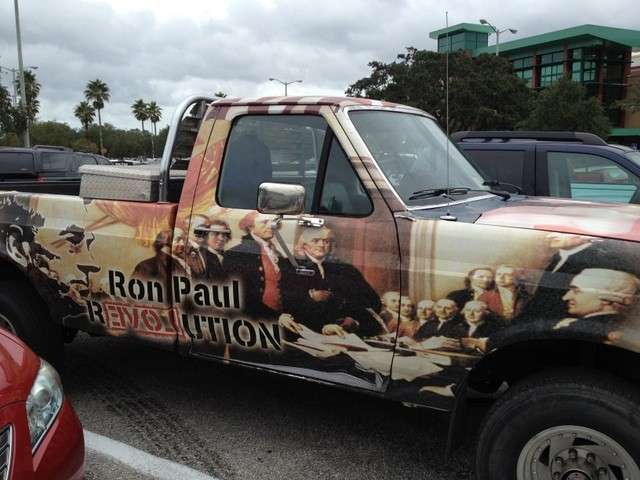 ---
Sat., Aug. 25 (11:42 p.m.) The Republican National Committee cancelled Monday's event as a precaution for the incoming tropical storm heading its way towards Tampa. However, I'm sitting at the Salt Lake International Airport ready to catch the red eye flight to Tampa before embarking on a busy week.
Although Monday's events have been cancelled, the Ron Paul Rally will continue as planned Sunday afternoon. Paul's campaign will live stream the rally on YouTube. Once I land in Tampa, I hope to get to the rally before the gates close. I expect a large crowd of supporters and delegates ready to show their support for Paul and his message of "Liberty."
The Paul event will likely draw thousands, but I don't expect there to be any incidents or outbursts once the actual convention begins. The biggest worry on everyone's mind will likely be the weather and the potential for Tropical Storm Isaac hitting the Tampa area.
×
Photos
Related links
Most recent Politics stories