Estimated read time: 5-6 minutes
This archived news story is available only for your personal, non-commercial use. Information in the story may be outdated or superseded by additional information. Reading or replaying the story in its archived form does not constitute a republication of the story.
SALT LAKE CITY — Mitt Romney's pick of conservative Congressman Paul Ryan of Wisconsin as his vice presidential running mate sent a buzz throughout the Utah political community Saturday. From top civic leaders to average voters, the choice was considered a bold move by many observers from both sides of the political aisle.
Gov. Gary Herbert called the Romney-Ryan ticket the ideal team.
"Mitt Romney's selection of Paul Ryan underscores Romney's commitment to turn around the nation's economy and get America working again," Herbert said. "Not only is Ryan an experienced conservative and a nice complement to Romney, he has demonstrated leadership on reigning in federal deficit spending. This Republican team is exactly what the nation needs to get our fiscal house in order and restore economic health."
Rep. Jason Chaffetz called Ryan "the right guy."
"Paul Ryan knows more about the budget process and the financial woes of this country than anyone on Capitol Hill," Chaffetz said. "He is by far the best prepared to deal with out financial crisis."
---
I couldn't be happier. It's a serious pick. I'm so proud of Mitt Romney that he selected Paul Ryan, because he's a person of integrity, he's a person of principle and got so much substance.
–Rep. Jason Chaffetz.
---
"I couldn't be happier. It's a serious pick," he said. "I'm so proud of Mitt Romney that he selected Paul Ryan, because he's a person of integrity, he's a person of principle and he's got so much substance."
Ryan is no stranger to the Utah political scene. In June, he was among the 60 or so in attendance at a Park City fundraiser for Romney and also attended a fundraising event for Mia Love that same weekend.
Ryan brought along some generous donors and the event hauled in more than $65,000 that was expected to help boost Love's campaign to unseat six-term Utah Rep. Jim Matheson in the race to represent the 4th District.
"We want to extend the universal ideals of this country, as an opportunity society with a safety net, a society of upward mobility, a society where we promote equal opportunity," Ryan told the Deseret News following the event.
Love Saturday lent her voice to the chorus of GOP faithful lining up in support of the new GOP presidential ticket.
"Congressman Ryan has led the fight in Congress to get the federal budget under control, save our entitlement programs, and get government off the backs of job creators." Love said. "These are priorities of working Utahns, and it is no great leap to predict that Utah's support for the Romney/Ryan ticket on November 6th will be overwhelming."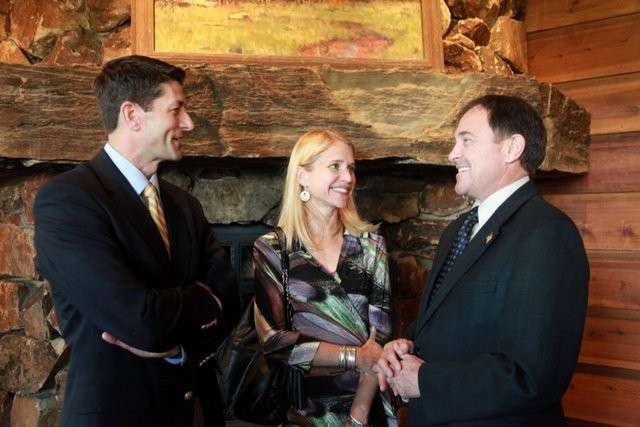 Even politicos on the opposite side of the spectrum lauded Ryan's selection to fill out the GOP ticket as a solid choice. However, Utah Democratic Party Chairman Jim Dabakis warned that Ryan could be a potentially polarizing figure to some voters.
"Ryan is the candidate of the Tea Party," he said. "This gives Romney a new dimension. There is the Ryan budget, the Ryan 'view of the world.' That may activate a lot of the Republican base that Romney hasn't been able to reach out to before."
Whether the choice is a "wise political move" remains to be seen, he said.
Referring to a recent conversation with Rep. Barney Frank, D-MA, Dabakis said that Frank described Ryan "as a guy who says what he thinks, (who) is civil (and) will negotiate."
"That's good for the country," Dabakis said. "Even though I think his policies are a disaster, he does have that reputation in Washington of being real up front. That will help Romney."
However, Dabakis said that Ryan's budget plan to "eliminate" Medicare for seniors would be among the big issues on the campaign trail that would be tough to overcome.
"I would not like to be the person explaining to the voters of Florida about doing away with Medicare," he said. "It just doesn't seem like a good position."
He said that as the presidential race narrows down to a few key swing states, whether the voters want to follow the ultra-conservative Tea Party track or take a more centrist path would be an important factor.
"(Romney) obviously did the calculation and decided to go with getting the base fired up," Dabakis said. "We'll see how that plays out politically."
Sen. Orrin Hatch, who has tied himself to Romney in his own re-election bid, focused on what much of the focus was on Saturday, a GOP ticket now focused on the economy and government spending: "The Romney-Ryan ticket is a commitment to cutting back the runaway spending and massive debt we've seen from the Obama Administration, and represents new ideas to turn our economy around."
A local political analyst was also on-board with the choice of Ryan as the potential second-in-command.
"In my mind, what Ryan brings that no one else did was an actual roadmap to fix the economy and to get us back to a more fiscally responsible way of going forward," said Kirk Jowers, Romney supporter and director of Hinckley Institute of Politics at the University of Utah. "Ryan puts it (the race) squarely in Romney's court. It's about jobs and it's about fixing this deficit."
Despite the high-profile selection, not everyone in Utah was aware of who Paul Ryan is.
"Well, I've never heard of the guy, but maybe he has a good name," said Layton resident Jordan Gold. "I trust Mitt Romney. Maybe he can do something with Ryan."
Others were more informed about the Wisconsin congressman:
"He's definitely conservative. I think it's wise because of the economy," said Kaysville resident Beth Rhoades. "They do need an overhaul and it's important to have somebody who has some experience in those areas to help the (Presidential) nominee out."
"It's a good choice," said Dave Packer of Spanish Fork. "It'll get a lot of the younger generations on board.
Contributing: John Daley
×
Photos
Related links
Related stories
Most recent Utah stories