Estimated read time: 2-3 minutes
This archived news story is available only for your personal, non-commercial use. Information in the story may be outdated or superseded by additional information. Reading or replaying the story in its archived form does not constitute a republication of the story.
Lori Prichard reporting A mortgage company accused of blatant fraud was shut down, and now state officials issue a warning to others.
The United States Attorney's Office for the District of Utah says we haven't seen the last of mortgage fraud charges in this state, the kind of fraud that has artificially inflated housing prices.
Now, the office says it has fraud cases, cases that reach into the tens of millions of dollars, ready to go before a grand jury.
Those cases include multiple players: lenders, appraisers and mortgage brokers. This is on top of the fraud we and other news organizations already have reported.
You've probably heard it before, Utah ranks in the top 10 nationally for rampant mortgage fraud. Now, federal and state agencies are mounting sweeping investigations.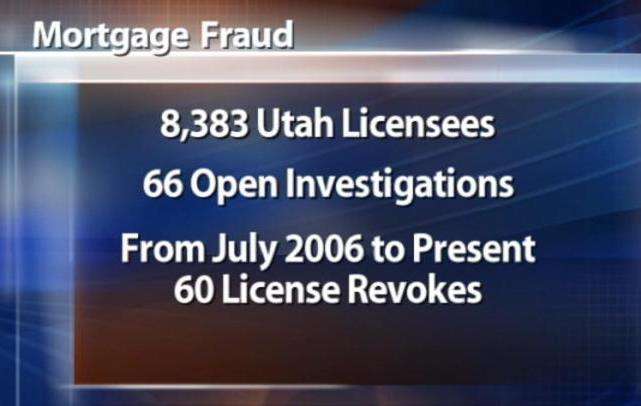 "How bad are some of the individuals we're dealing with? There are some that are absolutely white collar criminals who prey on others, who can somehow claim what they're doing isn't as bad as robbing a bank with a gun," explained Brett Toleman, U.S. attorney for Utah.
The Utah Real Estate Division director is quick to point out that it's a small group of people who are causing some very big problems. "They're damaging the integrity of the real estate market," Derek Miller said. "In our investigation of our licensees, it's about 1 percent that we find that are involved in violations of the law."
Here are the numbers: There are more than 8,300 mortgage officers and principal lending managers in the state. Of those, 66 are being investigated for mortgage fraud. Since July of last year, just 60 licenses have been revoked.
John Norman Jr. is part of a mortgage trade association that holds brokers and lenders to a higher standard. "Lying is not in the code of ethics," he said. "The 99 percent of the good people out there [have]to compete with the people who misstate, mislead, omit in order to get a lender to extend credit."
Eyewitness News has received calls today from worried consumers who are afraid they've been scammed or afraid they will be. If you have any questions, the Utah Mortgage Lenders Association has a hotline staffed by mortgage lenders who will answer your questions. You can reach them at 1-800-530-3691.
×
Related links
Most recent Utah stories