Estimated read time: 2-3 minutes
This archived news story is available only for your personal, non-commercial use. Information in the story may be outdated or superseded by additional information. Reading or replaying the story in its archived form does not constitute a republication of the story.
FOUNTAIN GREEN, Sanpete County — A family's home was destroyed in a flood earlier this week, and what's worse is their insurance company won't cover the cleanup. Fortunately, their situation is starting to look a bit brighter thanks to some generous neighbors.
On Monday, mud and water poured into Kathy Facer's Fountain Green home and came out a basement window well. By Thursday, her family could finally walk inside the basement thanks to the help of more than 100 volunteers.
"We literally had a basement full of mud," Facer said. "I had 10 to 15 people bucketing a chain reaction, getting the water out."
But that was only the immediate response. More than 100 people turned up the first day to pitch in; 70 showed up on day two.
"People were coming out of the window wells, and I'm like, 'I didn't even know you were here,'" Facer said, "and they're like, 'I've been here for five or six hours.'"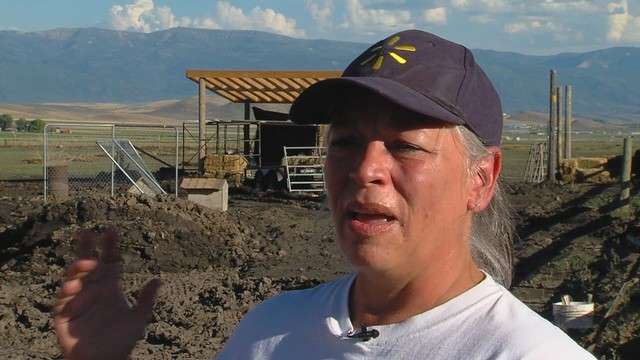 And they keep coming.
"There's still a lot that needs to be done. That's why we're here tonight," Russell Dalton, a volunteer, said Thursday. "We'll be here tomorrow, and we'll be here Saturday."
As friends and even strangers help make the house look like a home again, others have donated money. The Facers even received a $10,000 check from an anonymous donor.
"I feel extremely loved. I didn't know I had so many friends," Facer said. "I'm just thankful for everyone's big hearts.
She said she also feels humbled, and that's the only way to describe the help of her community.
"Personally, I expect neighbors to do that, because that's what neighbors need to do for each other," Dalton said.
The Facers had flood insurance, but there provider said Monday's flood was not covered because it was considered a natural disasters. The family is still in need of donations to help clean up some of this damage. If you'd like to help, you can donate* at any Zions Bank branch under the name "Facer."
Email: ddolan@ksl.com
---
*ksl.com has not verified the accuracy of the information provided with respect to the account nor does ksl.com assure that the monies deposited to the account will be applied for the benefit of the persons named as beneficiaries. If you are considering a deposit to the account you should consult your own advisors and otherwise proceed at your own risk.
×
Photos
Related stories
Most recent Utah stories