Estimated read time: 2-3 minutes
This archived news story is available only for your personal, non-commercial use. Information in the story may be outdated or superseded by additional information. Reading or replaying the story in its archived form does not constitute a republication of the story.
Richard Piatt reporting If not vouchers, what? That's what people who are calling for education reform in this state are asking. Today, they got a chance to ask that question of experts.
Vouchers were the most recent call for change, but now the state has to work with the current system. The question is: Where do we start?
The cost of ignoring future education needs is illustrated in this editorial cartoon: Children exit a building labeled "lousy schools." The drawing depicts them growing up and entering a building called "quality jails."
Stanford education professor Linda Darling-Hammond calls the cartoon "poignant," not an exaggeration of the cost of ignoring education reform. "Not investing in education actually sets a community on a very long-term negative path for supporting all of its citizens," Darling-Hammond said.
Those with a keen interest in Utah education searched for ideas at today's education policy forum. According to Darling-Hammond, the needs nationwide are schools for 21st century demands and jobs.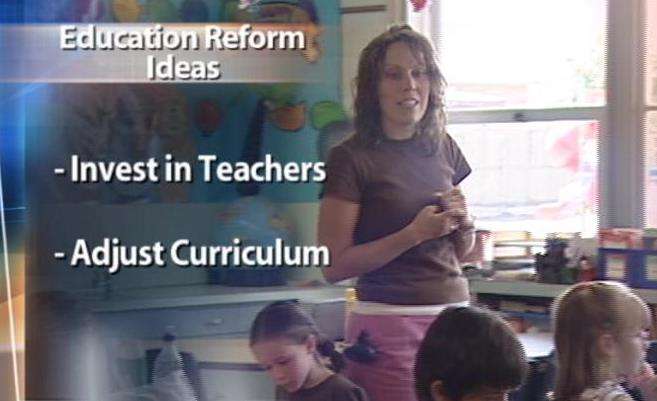 An investment in a top-flight teaching force needs to be a priority. Darling-Hammond says there is a direct correlation between skilled teachers and successful students and adjusting curriculum, perhaps teaching fewer subjects, focusing on problem solving and critical thinking skills, she says. It is strategic spending of existing money.
"There are some new resources needed for new challenges, but a lot of the challenge is rethinking the way we spend our money now," Darling-Hammond explained.
The defeat of school vouchers did not take away the desire for school choice among parents who want more choice in education. Those who run charter schools see an opportunity.
"We do hope that people will look at vouchers as a dead issue and charters as a viable, publicly funded choice, so parents can feel their money is being used appropriately for public school choice," charter school principal and CEO Al Church said.
However reform comes about, a high school education is just not enough anymore. The system we have has to prepare kids for a very competitive college career, not to mention the career that comes after.
×
Most recent Utah stories