Estimated read time: 2-3 minutes
This archived news story is available only for your personal, non-commercial use. Information in the story may be outdated or superseded by additional information. Reading or replaying the story in its archived form does not constitute a republication of the story.
Amanda Butterfield and Andrew Adams reporting There have been two attempted kidnapping cases in a matter of days in the Salt Lake Valley. The most recent one involves a young girl in her Riverton home, but a few days earlier a mother and daughter were threatened in Salt Lake.
The two incidents are not related. The Salt Lake County Sheriff's Department is handling one case, Salt Lake City Police the other. It's Salt Lake City's case that involved a mother and daughter, both who were harassed by a man outside their home.
Betha Hudspeth can't stop thinking about the man she says tried to force her in his car last week. "My anxiety level is through the roof," she said.
It started Thursday when her daughter Lillaqway was walking home with a relative. A man parked in front of this dumpster by their apartment complex and started asking about Lillaqway. Curiously, he had both doors and the trunk of his car open.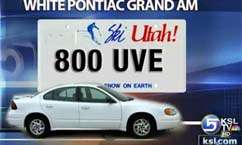 The relative got Lillaqway home safely and told Betha what happened. "I came out wondering what was going on, and this was after he was pacing back and forth in front of our house, which I thought was really strange," Betha explained.
So, Betha asked if he was lost. "He just tried to push me into the car, and that's when I spun, pushed back and got the plate number," she said.
He kept telling her, "It's OK. My name is Juan." He didn't seem to care when she told him she had a knife, but he took off when she said she was calling the cops.
That's more of a description then Salt Lake County's Sheriff's Department has to go off of on an attempted kidnapping that happened in Riverton Saturday night.
Deputies say a 13-year-old girl opened the door to a stranger who then tried to grab her. She got away from him, shut the door and called her father. Investigators tell us they are working some leads, but aren't willing to talk specifics on camera.
As for the Hudspeths, Lillaqway is now having nightmares. "I have a lot," she said.
Betha dreads being outside. "I don't even want to be out here anymore. I'd rather stay inside and be safe," she said.
Betha has told Salt Lake police the man who grabbed her was Hispanic, 5 feet 6 inches tall, and weighed about 160 pounds.
The suspect was driving a white Pontiac Grand Am with Utah plates 800 UVE.
No charges have been filed or arrests made. If you have any information on either of these cases, contact your local law enforcement agency.
×
Related links
Most recent Utah stories