This archived news story is available only for your personal, non-commercial use. Information in the story may be outdated or superseded by additional information. Reading or replaying the story in its archived form does not constitute a republication of the story.
SALT LAKE CITY — You won't catch this teenage girl wasting time.
A 4.00 GPA, a perfect score in the math portion of her SAT, near perfect on the ACT and a No. 1 ranking in her class of 465 is just the beginning.
Her skill as a middle blocker for Skyline High School's volleyball team in East Millcreek brought interest from MIT's volleyball coach. But her qualifications in academia could have landed her there without the volleyball, if she wasn't aiming higher.
Anisa Mughal, 18, already has enough experience on her resume to make most adults scratch their heads and ask, "What am I doing with my life?"
Mughal was recently named national Youth of the Year by the National Exchange Club, the century-old organization dedicated to community service.
She was named the 2012 General Sterling Scholar for the Wasatch Front Region back in March, and found out a month later that she was one of 10 students accepted to the Pittsburgh School of Medicine Class of 2020, a prestigious program that begins her march to a career in medicine when she enters the program as a freshman.
"I am amazed how she is able to be the best at all she chooses to do," said Jami Hutchins, Anisa's volleyball coach and counselor at Skyline in her recommendation letter.
The teenager is the daughter of a Pakistani father and a German mother. She speaks Spanish and German, and is working on learning French and Urdu, the language of Pakistan.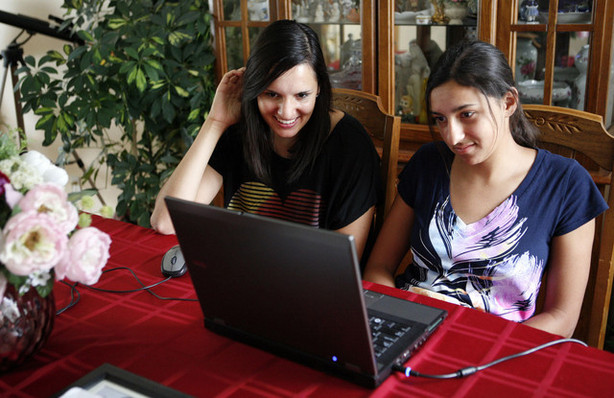 Her formula for sports or academics is simple: preparation is the key to success.
"She has spent a lot of time in school. I don't think I have spent one-third as much time as when I was in school," said her father, Tariq who has two masters degrees. "It is not like she just breezed through school. I would be wrong If i said that she was born as some sort of Einstein. That is not the case."
Her resume continues to grow, but Anisa stands out from the crowd by a desire to care for others.
Caring for others
Much of her surrounding environment has affected her decision to go into medicine. For her it is more then a desire to help people.
"If you want to help people you can do a lot of things," she said. "You can be a firefighter, you can be a social worker, you can be a professor like my dad."
As her math teacher, Adella Croft, said in her recommendation letter, Anisa was most grateful for her studies in Spanish when she was able to assist a homeless man at a local food bank in his native Spanish.
It is finding a way to combine intellect with integrity and compassion.
"Those three things are so hard to achieve together that when you do achieve them together your possibilities are endless," she said.
"With medicine a lot of people think, 'oh you're a doctor you must be way smart,' but it is more than that. It is relating to people and that is compassion and also having that integrity that allows you to serve with honesty," she said. "That is something that I strive for and combining those three things that make the best Anisa that I can be."
She has volunteered at the Maliheh Free Clinic as an interpreter since November 2011 along with other charity groups.
---
(Intellect, integrity and compassion) are so hard to achieve together that when you do achieve them together your possibilities are endless.
–Anisa Mughal
---
She knows that some people see her as too young and suggest she is missing her childhood by engaging in adult- size goals at a young age.
"I know that some people would say that I don't have to, but I know that I have to. It is something that I know in my heart that I need to do and it just so happens that it came to me when I was 18. It came to Joseph Smith at 14 or 15 and that is even younger than me," she said, reflecting her faith in her religion and her respect for the prophet-founder of the modern-day church.
"I don't know if I can change as many lives as he did, but I can only hope that I can change peoples lives for the better and I think it is accumulation of my academic ability, but more my ability to work hard and also my love of people and talking to them. It doesn't matter the language or the culture. I just love learning about them," she said.
Weaknesses into strengths
Her parents suggested at a young age that she pursue being a pediatrician, but she first dismissed the idea.
It wasn't until last year that she started embracing the idea of becoming a doctor.
"I kinda feel that is the right thing to do, but all my life I haven't wanted to do it" she said. "It is what will bring satisfaction."
She was influenced by her father to love the things that she dislike and be successful, happy, fulfilled and satisfied with the choice.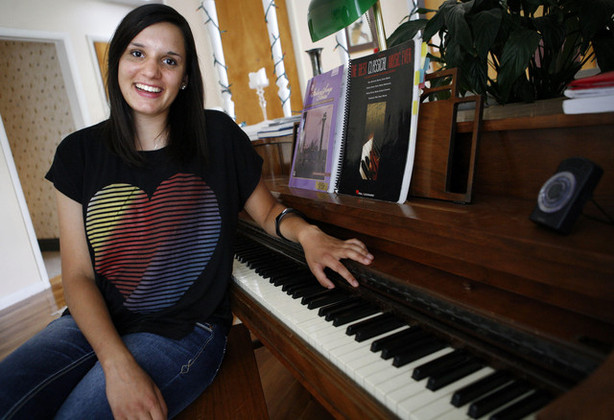 "And that is what medicine will bring me," she said.
She said she learned to turn her weaknesses into strengths from her father, as he turned a strong dislike for mathematics into his career.
Tariq a native of Pakistan began working at McDonald's when he first arrived in the United States. He is now a professor at the University of Utah in the Business College.
When her mother Yvonne Mughal immigrated from Germany she was washing dishes in a German restaurant. She now has a masters degree in Accounting from the University of Utah.
"If both of my parents can get master's degrees — my dad has two and my mom has one — both of them could go through that much schooling with English as my dads fourth language and my mom's second language, they could still read those text books and still get good grades, I know I can do it," she said. "And I guess that pushed me to show that I can do it too."
Anisa, who enjoys outdoor activities, singing, composing and arranging music, might have been involved in too many extra curricular activities growing up, her dad said.
"But, I don't regret not being the most popular kid or not being homecoming queen because the things that I sacrificed and what I have gone through are much more valuable then what could have been," Anisa said.
She took a combined 14 AP/IB classes during high school and on volleyball game days she would study in the locker room.
"I still pride myself that I never went to bed after 11 p.m. on a school night," Anisa said.
She would also go to seminary, waking up at 5 a.m. to attend the early morning classes.
"It was so hard, and I missed a couple of (young women's activities), but I never missed church unless I was sick," she said.
Church Influences
It takes a village to raise a child said her father. In this case it was a village filled with members of the Church of Jesus Christ of Latter-day Saints.
Mughal comes from a tradition of Mormon pioneers.
Her mother is fourth generation Mormon. Her great- grandparents joined the Church between the first and second world wars in Germany.
An intellectually and spiritually stimulating atmosphere has been a significant factor in her development, according to her dad.
One of her influences in the Church was a leader in the church's Young Women's program who taught her words that became her motto:
"'No limits, and I think that is something that describes what I have done for the past couple of years. Not doubting what I can do and just going for it," she said.
At the age of 11 she was challenged by her primary teacher to read the LDS scriptures, The Book of Mormon from cover to cover by the end of the year. Her mom says that she took that challenge and then some, reading it twice that year.
"It has given me a better perspective (in life) and it has made me more humble," she said. "I could definitely have not done any of this without His (God) help. If I keep Him with me then I can do anything and right now I am in one stage of my life and I am just going to progress to another and I know if I keep Him close then I know I will be able to reach it."
Looking forward
She said one day she would like to have a vamily of her own, and she projects ahead 10 years and sees herself in medical residency, possibly with a husband and one or two kids.
She doesn't have all the answers; she doesn't know what field of medicine she wants to go into, for example. But she knows her future path is in medical school.
"And the cherry on top is that Pitt has a better med school then Brown," she said.
She is set to return from a family road trip from Alaska in August — her second trip there. She can add that trip to a 40-hour drive to Florida, that she has done three times with her family, along with eight trips to Toronto.
She said she is now able to better appreciate her relationships with her family. She said when she was younger her little sister Safia, would go into her room to give her hugs. But the sister would come out rejected because Anisa concentrated instead on her studies.
"But now I am thinking of those hugs as a little bit of goodbyes as she gives them to me because I will be leaving, not for good, but for a long time and I have not been away from a family for more then a week."
This will be her last trip with her family for a while as she is set to leave for medical school on August 15.
She has set new challenges for school as she strives to develop her abilities. And she said she now has a new motto as she begins this next stage of her life:
"Joy in the journey."
×
Photos