Estimated read time: 5-6 minutes
This archived news story is available only for your personal, non-commercial use. Information in the story may be outdated or superseded by additional information. Reading or replaying the story in its archived form does not constitute a republication of the story.
SALT LAKE CITY - The Jazz need shooting and a point guard to grow along their four young lottery picks. The Kings have a local legend in point guard Jimmer Fredette and just acquired another point guard that makes the BYU product expendable.
With the acquisition of Aaron Brooks for the Kings the rumors are swirling about the future for Fredette. In the center of trade rumors are the Jazz who were reportedly interested in the sharp shooter last year but he was off the board before they were able to draft him with the 12th pick.
His rookie season was by most accounts disappointing. He was expected to be a scorer and help run the point for a young Kings team. His senior year at BYU saw him score just under 29 points per game with a 39.6 percent shooting clip from beyond the arc, he won most of the major awards for a collegiate athlete and his draft stock soared.
#jimmer
He was taken with the 10th pick in last season's draft by the Bucks who traded him to the Kings. He was drafted for his both his ability to sell tickets and his up-tempo approach for then coach Paul Westphal. Once Wesphal got fired and fellow rookie Isaiah Thomas started getting playing time Fredette's numbers fell.
According to Sam Amick from Sports Illustrated Geoff Petrie, Kings President of basketball operations, has had his eyes on Brooks for years and was looking to improve Sacramento's personnel no matter the roster ripple effect.
Amick quoted Petrie about the situation at the now log- jammed point guard situation, "It's something that's going to play itself out over time. I think to try to predict that on July the 16th is probably a little premature. When you're winning 20 or 25 games, or thereabouts, any time you can add a real good player, I think it makes sense to do that."
Now with the ripple effect and the Jazz's ever-present need for shooting the question will come up early and often: Is Jimmer-mania returning to Utah?
The first aspect to look at will be whether these teams actually think he can play.
ESPN Rumor Central's Joe Kaiser wrote, "Here's the thing: it remains unclear whether Fredette can be a capable point guard or shooting guard in the NBA, but on the Kings' current guard-heavy roster he no longer cracks the two-deeps at either spot. Brooks and Isaiah Thomas are ahead of him at the point, and Tyreke Evans, John Salmons and Marcus Thornton are surer bets at the off guard spot."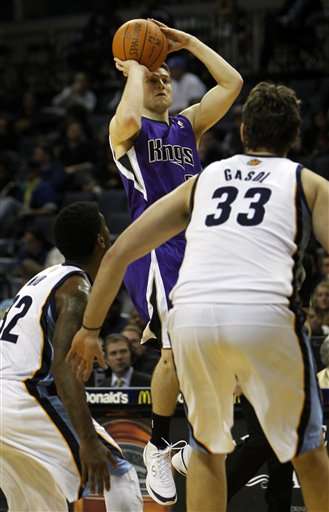 His greatest weakness is probably his tweener stature. Point guard or shooting guard is used constantly in reference to Jimmer. He is a better shooter than passer, but he was a great ball-handler in college.
His defense is sub-par. He never had to in college and whether he can is still up for debate in the pros. He is short for a shooting guard and isn't considered quick enough to guard the point, despite quality combine numbers.
If the Jazz were to get him, it would be for his shooting. He would be an instant offense player. They have Mo Williams as their immediate point guard. They also have Jamaal Tinsley and Earl Watson as traditional point guards off the bench.
He was 36 percent from beyond the arc last season and 83 percent from the free-throw line. Both numbers would help the Jazz out who were 32 percent and 75 percent as a team last season. But as a shooting guard he would battle with Gordon Hayward, Alec Burks and Kevin Murphy for playing time.
Kaiser goes on to list the Jazz and the Suns as suitors for Fredette. "This is all speculation here, but another team that may take a look -- if for no other reason to fill the seats -- is Utah. Fredette became a household name in his days at BYU and is a beloved figure in that state. The Jazz could conceivably find a spot for him in their guard rotation, whether it be at the 1 or the 2."
Jimmer put up 30 in the Kings summer league game against the Rockets last night after the news about Brooks broke and many wonder if keyed his break out.
"Like I said no, just normal," Fredette said in an interview from Cowbell Kingdom. "You just go out there and play. You just go out there and play, try and be aggressive. Coach just said just to be aggressive today."
Marc Spears of Yahoo! Sports tweeted, "I know its just summer league, but maybe SAC move for Aaron Brooks woke Jimmer Fredette up. Jimmer had an aggressive 30 points today vs HOU."
Just summer league is sure, but the 30-point outing should allow Fredette to continue to show off his still present skills and maybe allow the Kings to shop him. So, what would the price for Jimmer be for the Jazz?
Would you give up the Warriors protected pick, to get Jimmer, if you were the Jazz?I would.

— Dave Noriega (@davenoriega) July 17, 2012
An interesting tweet brought up by KSL's Dave Noriega for Jazz and Jimmer fans screaming to bring him in, "Would you give up the Warriors protected pick, to get Jimmer, if you were the Jazz? I would."
That might be the price. He is still young, a name and can sell tickets. It would require a draft pick at least, maybe a contract to make the figures work.
The rumor mill is churning and while the trade might seem a little far out right now, it still might be in Jimmer Range.
×
Related Stories