Estimated read time: 3-4 minutes
This archived news story is available only for your personal, non-commercial use. Information in the story may be outdated or superseded by additional information. Reading or replaying the story in its archived form does not constitute a republication of the story.
SALT LAKE CITY — A Utah dairy operation will close its doors at the end of the month, marking the end of a local institution that has changed hands several times during the past decade as it struggled to stay in business.
Seattle-based Darigold Inc. will close Cream o'Weber on July 31, eliminating 96 positions. The Cream o'Weber brand will now be produced in Boise and its milk products will continue to be sold in Utah stores.
"The plant closure was an extremely difficult decision that came only after careful review of the significant losses from the past year and losses we anticipated in the future," said Darigold communications coordinator Michelle Carter. The closure does not affect any other Darigold plants, she said.
---
The plant closure was an extremely difficult decision that came only after careful review of the significant losses from the past year and losses we anticipated in the future.
–Michelle Carter, Darigold communications
---
Darigold is the marketing and processing subsidiary of the Northwest Dairy Association. Carter said the dairy cooperative is comprised of more than 550 independent dairy producers who ship approximately 8 billion pounds of milk annually from their dairy farms located in Washington, Oregon, Idaho, Montana, Northern California and Utah. Darigold employs about 1,400 employees operating 13 processing plants.
The company was founded in 1924 but was purchased in November 2010. The Salt Lake plant, located at 2323 S. 900 West, produces pasteurized milk products.
Darigold declined to comment on specific financial data on profits and losses. But finances are at the heart of the decision to close the Utah plant. The company is the third owner/operator of the Utah facility in the past five years.
"During that time the plant has not been profitable," Carter said.
In 2010, milk production accounted for about $293 million in revenue for the state's dairy industry from 1.8 billion pounds of milk produced, according to John Hilton, director of the U.S. Dairy Association's Utah field office. That was up substantially from 2009's 1.77 billion pounds and $214 million in revenue.
Despite the growth, the dairy industry nationwide has experienced some volatility as milk prices have fallen from a 2012 high in January of $19 per cwt (hundred pounds) to $16.10 per cwt last month, falling each month so far this year.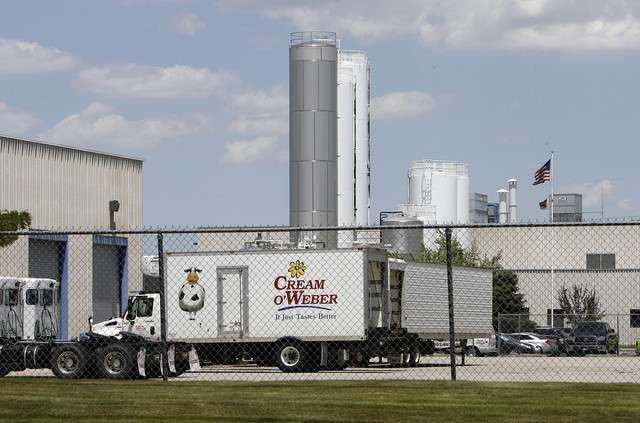 Milk production has risen overall in Utah since 2002, but some years were better than others. The state produced 1.67 billion pounds of milk in 2002, but didn't reach that level again until four years later. However, since 2006 milk production has increased steadily.
"Agriculture generates about $1.4 billion in revenue (annually) to farmers and ranchers in Utah," said Larry Lewis, spokesman for the Utah Division of Agriculture and Food. "Twenty-two percent of that is milk."
While the impact of milk production is significant and the number of milk cows has increased, the number of dairy operations in Utah has decreased, due in part to difficult economic circumstances for many smaller dairy operations.
"Last year we had about 87,000 milk cows in the state. This year we have about 91,000," Hilton said. "Most of the dairies that have gone out of business have sold to other in-state dairy producers … so the number of operations is going down."
He said there are still more than 400 dairy operations statewide, down from about 450 just two years ago.
It was that volatility that created serious financial challenges for Cream o'Weber, resulting in the pending shutdown, Carter said.
"We recognize the significant impact this announcement has on both the Salt Lake City employees and the local community," Carter said.
×
Photos
Most recent Utah stories