Estimated read time: 3-4 minutes
This archived news story is available only for your personal, non-commercial use. Information in the story may be outdated or superseded by additional information. Reading or replaying the story in its archived form does not constitute a republication of the story.
SALT LAKE CITY — In this season of fast-moving wildfires, homeowners are getting some sobering lessons — lessons firefighters know well.
For instance, this summer's unpredictable winds that shifted quickly. "One time it blows in one direction, the next time another direction," said Park City Fire District Chief Paul Hewitt.
"Departments and districts know the drill," he continued. "We think of fire traveling just about as fast as the wind travels."
Left behind as a reminder of the June 29 Rose Crest Fire, one home stands out among the charred remains of three adjoining homes. Firefighters made a defensible stand there partly because the property had built-in buffer zones.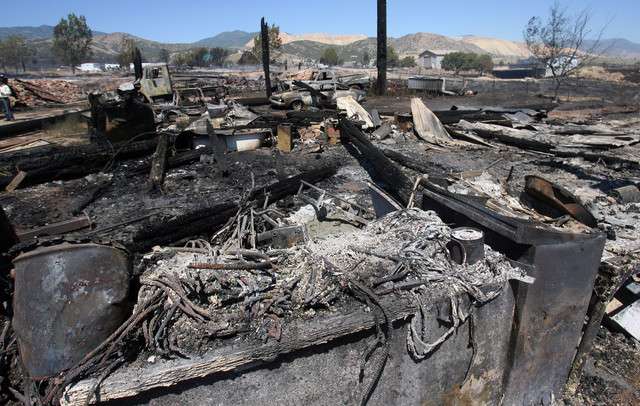 Bluegrass turf, rock retaining walls, a large graveled pad, and no wooden fences attached to the house all helped buffer the property. The homeowner had also trimmed lower branches from conifers to prevent what is called the "laddering" effect.
As Utah State University forester researcher Michael Kuhns describes, "Firefighters call it 'ladder fuels' when you have, maybe, dry grass that might burn and carry up into a shrub, and the shrub will carry up into the crown of a tree."
Traveling east up Parleys Canyon, Jeremy Ranch homeowner Jim McHugh has created three different buffer zones. He's feathered his property not into a barren moonscape, but in natural harmony with the surroundings.
There's sort of a demarcation line at the edge of the thick forested area. If you look from that point toward his house, about 100 hundred feet of the land has been thinned out to reduce fuel for a fire. He also has an exterior fire sprinkling system installed in the eaves of the house.
McHugh believes homeowners choosing to interface with nature should assume personal responsibility.
"We've seen that we've put ourselves in a very precarious position, and also those who may be called upon to come and help defend our homes," he said. "So out of due respect to ourselves and firefighters, this is the proper thing to do."
---
Out of due respect to ourselves and firefighters, (being Firewise) is the proper thing to do.
–Jim McHugh, Parley's Canyon homeowner
---
While buffering landscapes is still voluntary in Utah, some other states have chosen to mandate action from homeowners.
"I know of some jurisdictions around the country where they're toughing up restrictions," said Park City Fire District Fire Marshal Scott Adams. "If the people are not maintaining their houses, they'll actually have the fire department contract with a company that will come in and do that, and they'll add it to their property tax or some kind of lien on the house until they pay up."
In places like Herriman or Draper, fire prevention experts say property owners should consider planting drought tolerant plants that are actually fire resistant.
For example, ice plants are not fireproof. But they are fire-resistant, meaning they won't carry fire from point A to point B, and they won't explode or flash.
"They'll burn in a fire, but you would almost have to take a blow torch to really get them to flame up," Kuhns said. "And even then, they won't carry the fire for very long."
Buffalo grass, Russian sage, hen and chick plants are also among a large inventory of species void of waxes or oils that burn readily in a fire.
In Utah's Firewise program, homeowners bordering wild lands are advised to avoid trees that overhang roofs, or shrubs growing under tree branches, or continuous masses of shrubs, or shrubs against the house.
Instead, the program suggests pruning up trees, putting space between shrubs and trees, using low ground cover or gravel beds, and removing shrubs next to the house. In cases where wildfires move quickly towards neighborhoods, fire managers say Firewise landscaping might just save your house.
After massive losses in Colorado this year, insurance companies may soon reconsider underwriting policies unless homeowners show they're serious about buffering themselves from the risk.
×
Photos
Related links
Related stories
Most recent Utah stories