This archived news story is available only for your personal, non-commercial use. Information in the story may be outdated or superseded by additional information. Reading or replaying the story in its archived form does not constitute a republication of the story.
KAMAS — John Blazzard is a fifth-generation timberman who is watching his livelihood grow brown and die year by year, and he said he's helpless to do anything about it.
"It's beautiful country. It leaves a sick feeling in your stomach when you see it dying," he said. "At least it does to me."
Blazzard is looking out over the high vista of Duchesne Ridge in the Uinta Mountains outside of Kamas, where great patches of dead or dying conifers have been turned brown by a relentless beetle infestation. The dead trees are literally a forest unto themselves, the devastation stretching out for miles.
---
It's like thousands of cans of gas out there, just waiting to go up.
–John Blazzard, logger
---
"It's like thousands of cans of gas out there, just waiting to go up."
Blazzard is frustrated by what he says are over-restrictive Forest Service policies that have not only decimated the timber industry in Utah, but left forests a dry wasteland of fallen timber and old, diseased trees ready to burst into an inferno.
"We can follow along and clean up the dead trees, but waiting four or five years for a timber sale (offered by the Forest Service) isn't going to cut it," he said.
He has the support of the Utah Farm Bureau, which organized a tour of the area with Blazzard to showcase its concerns. But environmental groups and the Forest Service  say there are more culprits at work in this complex problem and it is overly simplistic to lay blame at the feet of federal policies or lawsuits.
As of July 6, 359,735 acres in Utah have been scorched by wildfires this year, with losses estimated by public safety officials topping $6 million.
Statistics going back as far as nine years show that 90 percent of Utah's forested landscapes even at that time were at a moderate to high risk of catastrophic wildfire due to forest health conditions. That staggering number, provided by the Utah Farm Bureau but taken from the Forest Service offices in Utah, accompanies what Blazzard said are federal practices that helped close the doors on nearly a half-dozen lumber companies in the area. His is one of only three that remain.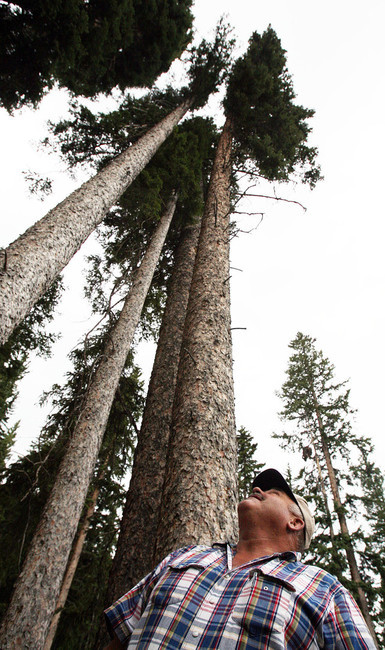 His own production has dropped from four million board-feet from 15 years ago to about 1.5 million board-feet per season.
"This is something we have been doing for generations, but I am afraid that my kids, my grandkids, won't be able to continue."
He said the same constraints and inflexibility exist for grazing cattle or sheep. Last year, when heavy snow still blanketed the high Uintas, Blazzard said he had to wait two to three weeks to put his animals in the higher valleys. But this year, when the mild spring led to an early flourishing of cheat grass, there was no early window that opened up for his cattle to be moved to higher ground, where they would have kept the noxious plants — and fuel for fires — at bay.
"There was a time when the rangers would just get out and look at the nature and health of the land and be able to make a decision based on what they saw," he said. "Now there is a disconnect between getting out of the office and getting it done."
In another area, Blazzard gestures toward some campgrounds at Wolf Creek, where towering dead pines — some perhaps as old as 150 years — have been marked with blue paint. It is the Forest Service's signal for an upcoming timber sale being offered here and at the Trial Lake Campground.
He finds irony in the offering, however, because he's already logged here twice in the past 15 years, and could have easily snatched up the mature trees before they succumbed to a beetle infestation.
"If the Forest Service had been aggressive," said his wife, Jackie, "it wouldn't have got here. You wouldn't have had to come back a second or third time. Why can't something be done ahead of time? It breaks my heart to see the trees like this."
The Forest Service, the Blazzards say, will let the trees come out now because they pose a life-safety hazard to campers. In the meantime, repeated timber harvest ventures into the same area leave the small trees trampled.
John Keeler, the southern regional manager for the Utah Farm Bureau and the organization's staff advisor on its Forest Service Committee, said there are really only two ways to clear a forest of its old, diseased or stressed trees: through fire or timber harvesting.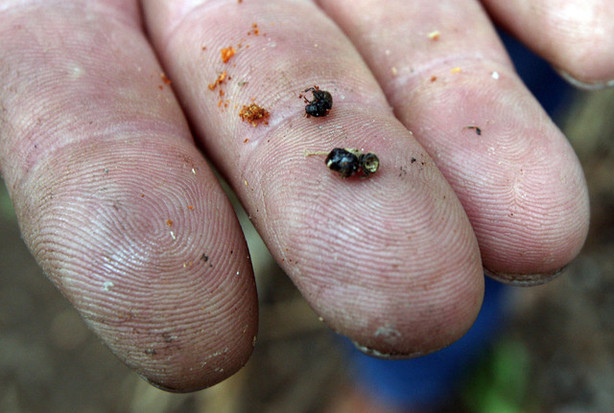 "Fire has kept forests healthy, but fire has largely been absent. Regulation is what is strangling the whole logging process, and litigation is causing that."
Kevin Mueller, program director for the Utah Environmental Congress, said litigation is not halting timber sales in the Soap Stone Basin — at least not now.
"I think it is bunch of baloney," he said. "It's been years since there has been an appeal up there — around 1999 or 2000," he said. "The Forest Service has actually come through and approved some projects up there, but none of that has the intent of stopping the beetle outbreak. You can't stop an outbreak with logging. Nobody can stop that outbreak. It is like trying to cloud seed to stop a hurricane coming for the coast. It is just not going to work."
Fires, he said, are a natural cleanser and a few years delay in a logging project "doesn't really make much of a difference in a forest system that is on the order of several hundred years."
Sterling Brown, the Utah Farm Bureau's vice president of public policy, said Friday's tour was organized as a plea to shake loose the hand of government from those who make a living off the land.
"Let us get in there and manage it in ways that are practical, reasonable and sustainable," he said. "Two generations ago it was weather that would put the farmer out of business. One generation ago it was the volatility in the markets. Today, it is increased and cumbersome regulation."
---
Two generations ago it was weather that would put the farmer out of business. One generation ago it was the volatility in the markets. Today, it is increased and cumbersome regulation.
–Sterling Brown, Utah Farm Bureau
---
Like any other federal agency offering up a natural resource for lease, harvest or land-use change, the Forest Service has to conduct an internal review, put the proposal out for public comment, and wait to see what the reaction may be. Timber sales that have been offered may be protested, or withdrawn.
The federal review process, said Forest Service spokeswoman Loyal Clark, is thorough and governed by statute, which provides little, if any, flexibility. The Heber-Kamas Ranger, Jeff Schramm, added that several timber sales are going to bid in August in the Soap Stone Basin, and another is poised to happen next year.
Off a little road in Soap Stone Basin sits a girls camp owned by The Church of Jesus Christ of Latter-day Saints, which is being negotiated as a possible future site of a timber sale.
In the meantime, amid the tall stands of dead and dying beetle-infested trees, the girls have set up camp at Piuta.
"I can just see a fire coming over that ridge and burning this," Blazzard said. "It's just an old strand of trees. It needs to harvested and used. When it gets too  thick with old trees, the little trees can't get started."
Some of the trees nestled in among the dead are still green and there looks to be hope that perhaps they have escaped the fate of their neighbors.
But Blazzard just shakes his head.
"It's too late. Those trees are already dead; they just don't know it."
Contributing: Jed Boal
×
Photos