Estimated read time: 2-3 minutes
This archived news story is available only for your personal, non-commercial use. Information in the story may be outdated or superseded by additional information. Reading or replaying the story in its archived form does not constitute a republication of the story.
Lori Prichard ReportingA legal battle is brewing over a man and why he was put in jail. Osler Childress' family says he should have been immediately taken to the hospital. Childress was in the midst of having a stroke!
In May 2006, Osler Childress was taken to the Salt Lake County jail after police responded to his hotel room in Midvale. What they found there was a man who couldn't walk, had slurred speech and had vomited on the floor.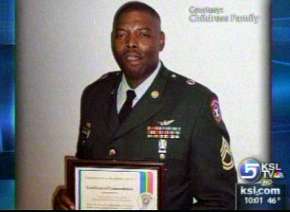 Today Childress said, "I can't do anything like I used to. I used to be an active duty army recruiter. I'm a station commander. I used to work on helicopters."
What happened to him, his wife, Georgia, says, should never happen to anyone. "I couldn't understand why he was in a jail cell," she said.
And that's the reason for this federal lawsuit. When police found Osler in his hotel room they thought he was drunk. So they took him to the county jail to sober up and sleep it off. But Osler's family says he wasn't drunk at all, he was in the midst of a stroke.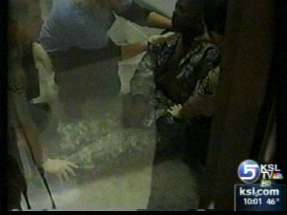 A Sergeant First Class in the Army, Osler was headed from Georgia to Nevada for work when he made an overnight stop in Salt Lake. That was a year and a half ago, and he's been here ever since.
Georgia said, "He had to relearn how to walk. He had to relearn how to speak. What you're hearing today is a vast improvement."
Osler finally got to the hospital, roughly seven hours later. He denied the use of drugs or alcohol and told police he had numbness in his arms and legs. Osler's family says those were symptoms of a stroke missed by both police and paramedics -- symptoms that weren't treated in time, they say, to dampen the damage that a stroke can do.
Osler says, "Oh man, me and my son can't run anymore. He plays football. He's pretty active. I can't show him anymore."
Both Midvale and Salt Lake County declined to comment on this story, citing pending litigation. We believe, though, the central issue in this case will be when Osler Childress actually had a stroke. Was it in the hotel room, as the Childress' claim, or in jail, as the defense suggests, in which case the defendants acted appropriately by sending him to the hospital.
×
Most recent Utah stories