Estimated read time: 2-3 minutes
This archived news story is available only for your personal, non-commercial use. Information in the story may be outdated or superseded by additional information. Reading or replaying the story in its archived form does not constitute a republication of the story.
Sarah Dallof reportingStudents on there way to a Kaysville junior high this morning had a terrifying ride. Their bus was trapped on train tracks with a train fast approaching.
This is an unusual spot for trains to cross. We've been here a couple hours and seen four trains. They sound their horn, and they're loud, but they come through fast and don't stop.
"Until they change that route, I'm not letting them go. He wants to ride it still, but I won't let him," says Lisa Krage. Her 13-year-old son was on that bus. She says, "He called and told me that the bus almost got hit by a train."
The bus was on the way to Fairfield Junior High School when the driver moved on to the tracks and becoming trapped by the safety gates, which lowered in front and behind the bus.
According to the Davis School District, construction workers screamed for the driver to move and ran to help as the train got closer and closer.
Christopher Williams, with the Davis School District, says, "They tried to move the arm and couldn't. So they basically said, 'You've got to get off these tracks.' So the driver final broke the arm and drove through."
Amazingly, everyone arrived at the junior high school OK. The only damage to the bus: cracks in the windshield where the driver hit the gate.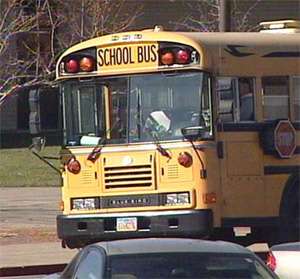 But now the big question: How did the driver end up on the tracks in the first place?
Williams says, "Whether the lights were flash flashing, whether the arms were down, the bus has to stop. The driver has to look and listen. What happened if he did that, I'm not sure."
The district says the driver of the bus isn't new. He has 10 years of experience.
Williams says, "Parents should be mad. And if my child was on that bus I would be mad as well."
The driver is on routine administrative leave tonight. At students' homes and at the school district, there is relief that things turned out the way they did.
Williams says, "I've been to train accidents where semi trucks have been hit, and you have one piece down here and one piece further down. I can't imagine what it would have done to a bus or to students."
The gate arm has been fixed.
When the students arrived at the school, four requested that they speak to counselors. That request has been granted, and the school says they'll be contacting all of the students on the bus just to make sure they're OK.
×
Most recent Utah stories