Estimated read time: 2-3 minutes
This archived news story is available only for your personal, non-commercial use. Information in the story may be outdated or superseded by additional information. Reading or replaying the story in its archived form does not constitute a republication of the story.
Carole Mikita and Andrew Adams reporting New copies of The Book of Mormon will have a word change in the introduction.
The change brings the introduction more into line with prevailing scientific theory.
Many Latter-day Saints already believe that the ancient peoples written about in The Book of Mormon represent only part of the inhabitants of Central America at that time. The change, in the introduction, accommodates that belief.
Latter-day Saints believe that The Book of Mormon tells the story of Israelites in the New World in 600 B.C. One family split into two groups called Nephites and Lamanites.
From Joseph Smith to the present, church leaders have told followers that Native Americans and indigenous peoples of Central and South America are descendants of the Lamanites.
In 1981, an introduction was added to the Book of Mormon that included the phrase: "... all were destroyed except the Lamanites, and they are the principal ancestors of the American Indians."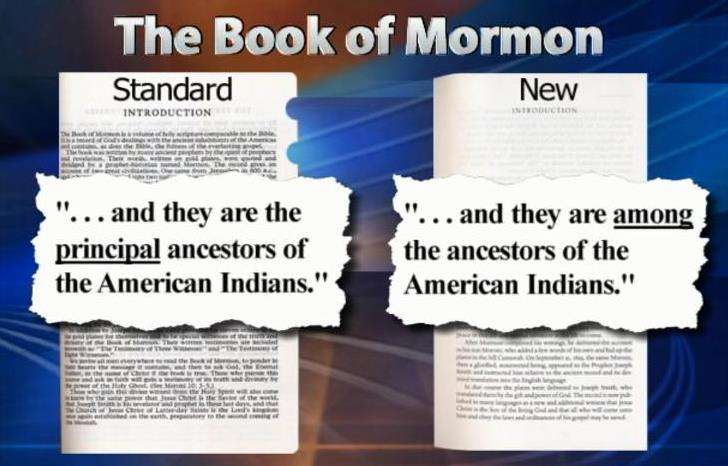 New editions from Doubleday now read: "... and they are among the ancestors of the American Indians."
DNA testing and research in books like "Losing a Lost Tribe" and "Who Are the Children of Lehi?" have brought the issue into modern context.
Kerry Muhlestein, BYU ancient scripture assistant professor, says church members should not look at this as surprising. "As we come to look more carefully at the text of The Book of Mormon and clues in it about other people they're interacting with, I think we've come to understand that the picture may be more complex than we have assumed," says Muhlestein.
Muhlestein says he doesn't believe it's in response to some DNA research that shows the continent's early inhabitants are of Asian descent.
LDS Church spokesman Mark Tuttle says the change will be included in the next edition of The Book of Mormon that the church prints.
×
Most recent Utah stories