Estimated read time: 2-3 minutes
This archived news story is available only for your personal, non-commercial use. Information in the story may be outdated or superseded by additional information. Reading or replaying the story in its archived form does not constitute a republication of the story.
Alex Cabrero reporting One place where fires are always a concern is the High Country Estates near Herriman. Every summer it seems like a fire starts there, but so far this year, the neighborhood has been lucky.
There's no doubt the southwest part of the Salt Lake Valley is growing, and growing fast. In what used to be fields, we're starting to see a lot of development, and that development is pushing into the southwest part of the Oquirrh Mountains where the High Country Estates are.
One family who lives in the area was recently recognized nationally for trying to make the neighborhood safer.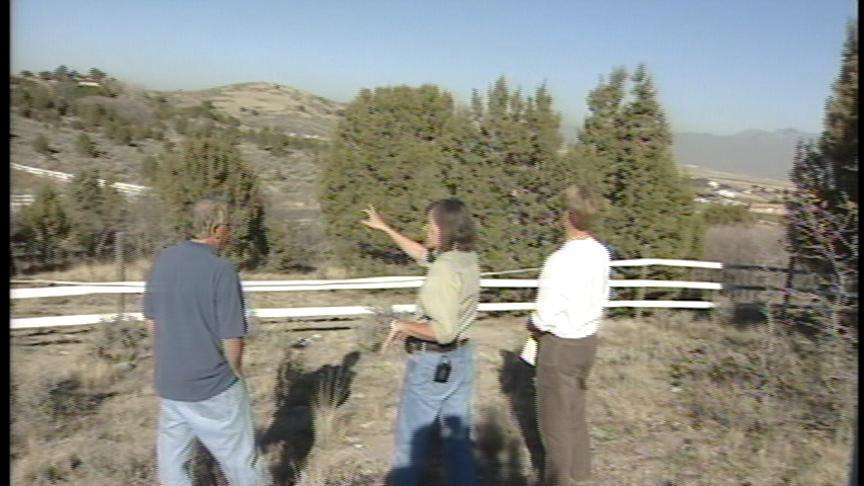 There are a lot of reasons why people move to High Country Estates in Herriman. "You can literally hear the birds land on the trees," resident Jean Crane said.
But there are always reasons why they move away. "They scare me to death, now," Jean's husband Randy said. Randy is talking about wildfires.
Eight years ago he and his wife moved here to get away from the big city, but that also means they moved closer to nature. "My wife, when we first moved up here, she said, 'We're in fire danger.' I said, 'No we're not.' We got the fire department up here and they said, 'Yeah, you are,'" Randy explained.
So, they started working with fire officials and the BLM to learn how they could make their home safer. "It is amazing how stupid we are," Randy said.
They began by clearing out cheat grass, trimming trees and opening up the area surrounding their home. They also learned what fuels fires. "We were so inexperienced when we moved up here," Jean said.
One of the things the firefighters wanted the Cranes to do was widen their driveway. Originally, the driveway was very narrow. Now that they've widened it, fire trucks can make it to their home.
Randy says they now know what fire dangers to look for. That's important because in the past year, two fires started from lightning strikes on the mountain behind their home, but they felt safe knowing they did what they learned.
Lately, they've also been training their neighbors and, because of that, won a national award for wildfire safety. "This was just completely a surprise to us," Jean said.
That just means they have to keep working. "It's an ongoing thing. Mother Nature says, 'I'm going to grow.' So, you have to continue to trim it back and keep it defensible," Randy explained.
Another reason why it's important to have defensible space around your home: If a fire does happen there, fire crews will try to save your house. They have gone around the neighborhood and tagged the homes they don't think have enough defensible space. So, if a fire happens, they won't try to save those homes and waste resources and manpower because they figure a home will burn anyway.
×
Most recent Utah stories