Estimated read time: 3-4 minutes
This archived news story is available only for your personal, non-commercial use. Information in the story may be outdated or superseded by additional information. Reading or replaying the story in its archived form does not constitute a republication of the story.
Richard Piatt and Nicole Gonzales reportingA new administration is on its way to take over Salt Lake City government.
Voters in the city elected Ralph Becker last night by a landslide. In each case, in the Salt Lake City mayor's race and with vouchers, voters spoke with supermajorities.
The strong message in Salt Lake City was twofold: One, that people in the city are ready for a change. And two, that, this year at least, party affiliation does matter, even in this non-partisan race.
Kirk Jowers, Hinckley Institute of Politics, says, "It certainly shows that the Democratic brand is on the rise and that this race mattered to the Democrats. It's a non-partisan race, but I was at the Bill Clinton event and when Ralph Becker walked in and got a standing ovation, it was clear that this is very much a partisan race to those in the party."
Today, Becker was making the rounds on media talk shows, but he's also planning on getting his transition staff together to make his first days in office as productive as possible.
"We need to be able to work well with our neighbors. We can certainly build models about what will work in Salt Lake City, but unless we're working well with our neighbors and with the state, we're just not going to make the kind of progress we need to make," Becker said.
The public was extremely outspoken about school vouchers as well. More than 60 percent of voters statewide said "no."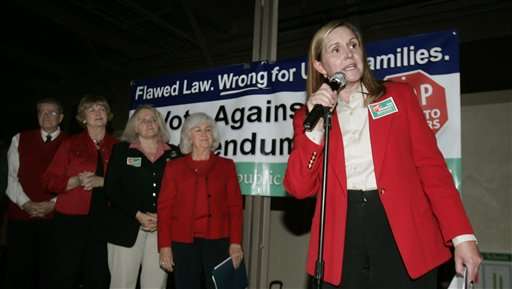 Many teachers see that as a strong message about public education. Voucher opponent Geannie Wines-Reed says, "I think that we don't have enough money in the school systems as it is, and we need to be putting more money into the school systems here in Utah."
Voucher supporters were not blindsided by the results, pre-election polls gave them a heads-up. But still, there were strong feelings that the idea to start a taxpayer-funded private school voucher program ended unjustly. Voucher supporter Patrick Byrne says, "This is an educational disaster zone, and Utah parents have looked at that and taken a bite out of it and said, 'Um, that's just right. My kids can be at the bottom of the heap. They can be 41st out of 50, that's OK by me.'"
"I'm feeling like a lot of people didn't vote that should have voted, and that if everyone had voted we would have passed," says voucher supporter Paula Knight. "I think we should have a choice with our kids and our teachers, but we'll keep trying."
Advocates said one thing they were happy about was surpassing their goal of 150,000 pro-voucher votes.
The voucher issue ended up costing both camps a lot of money. They spent over $8 million on the campaign.
Political experts say that amount of money and volunteer hours spent on the issue are unprecedented, especially since this was only a municipal election.
The question now is whether the legislature will take it on again. Today, one key supporter of vouchers in the House told Eyewitness News "no," but that the problems in public education are not going away.
Rep. Greg Hughes from Draper says, "We have to find different areas of reform. Vouchers were never a silver bullet. They were an arrow in the quiver, but as legislators, we have to do a better job that voucher is as way to truly help funding in public education."
Hughes also says, "Education reform is still a critical issue. We still have a teacher shortage. We still have overcrowding. We still have funding challenges in the state of Utah. And it's obvious that the funding race, is a simple mantra, that hasn't served us as well."
Of course, advocates for public education insist vouchers would harm public education. Clearly, a lot of people agree with that argument.
This election was a clear example of how voter turnout can affect a race. And according to county clerk's around the state, turnout was either average or above average.
×
Related links
Most recent Politics stories