Estimated read time: 4-5 minutes
This archived news story is available only for your personal, non-commercial use. Information in the story may be outdated or superseded by additional information. Reading or replaying the story in its archived form does not constitute a republication of the story.
SANDY — Lexe Selman doesn't like to lose.
"I always want to win. Losing is not okay," she says.
Her father Mark describes her as, "A very dangerous player."
"She's very tenacious too," he says. "If you take the ball from her you'll pay a price."
Her tenacious play made Lexe one of the best soccer players in the state of Utah last year. She scored 22 goals as a senior at and helped lead the Alta Hawks to the 5A state championship in 2011.
"It's the best feeling in the world," Lexe recalls about winning a state championship. "All the practices, all the drills, all for that one moment and to win is just the most amazing feeling ever."
They won state three times and had a 69-6-2 record in her four years on the team. She has also enjoyed success with her club team the Utah Avalanche. Her accomplishments earned her a scholarship offer from the University of Arizona.
---
I hope it inspires people to know that they should not be thinking, 'why me?' I hope it inspires them to have a positive attitude that they can do anything. Chemo doesn't have to win.
–Lexe Selman
---
"She's wanted to play college soccer since she was nine years old," says her mother Laurie.
She finally earned that opportunity and all the hard work had paid off. Then came news that would force her to put her dreams on hold.
Lexe was playing in a tournament in Arizona with her club team when she noticed something wasn't right. She struggled in games and had trouble breathing. She all of a sudden felt out of shape. Then there was the excessive bruising that developed after a match.
"My mom noticed and she said, "We may want to get you checked."
She went to the doctor where they received devastating news.
"(The Doctor) called me the next morning at 10:30," Laurie remembers. "At that point he did say that the numbers don't look good and we could be looking at Leukemia."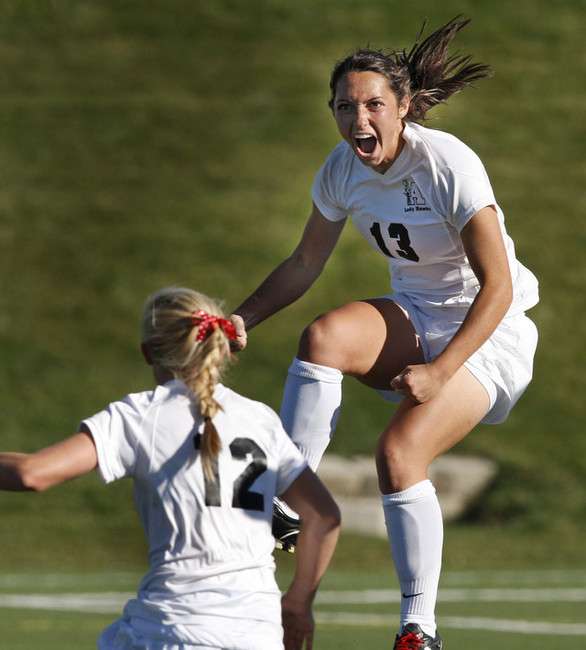 Follow up tests at Primary Children's Medical Center confirmed that Lexe had acute myeloid leukemia (AML).
"It was numbing," Laurie says about the news. "Shocking. It just rocked our world."
AML is a rare cancer of the blood that most commonly occurs in older adults. About 500 children are diagnosed with AML in the United States each year. About 70 percent of children with the disease achieve long-term remissions but Lexe faces six months of chemotherapy in order to beat the cancer.
Her parents say she has taken on the challenge just as she attacks an opponent on the soccer pitch.
"There was a side of me that was just ready to completely melt and fall apart." Laurie remembers when they learned of the diagnosis. "But I looked over at Lexe and she just had a couple tears running down her cheek. She just kind of bit her lip and took it on the chin. I thought, you know, if she's that tough then I need to be that tough."
"It buoys me up and actually brings joy to me to see that somebody can face such a difficult situation and do it with such grace and dignity." Says Mark. "It's amazing."
Lexe found strength in meeting other kids at Primary Children's that were fighting the same battle.
"They're all amazing kids," she says. "Hearing their stories gives me hope."
A round of chemotherapy wasn't enough to keep Lexe away from the game she loves. On June 2nd, with the approval of her physician, she traveled to Park City to watch her teammates with the Utah Avalanche play a team from Colorado. The team's coach thought it would be great if Lexe would take the first kick.
"I thought, okay, yeah she'll just kick the ball out of bounds and come right of the field." Says Laurie. "She took that kick and it wasn't out of bounds."
Lexe stayed in the game.
"The kickoff wasn't good enough," Lexe decided. "I had to touch the ball more."
Then just 24 seconds into the game Lexe stunned everyone.
"I remember seeing the defender far away on my left and then the goal. I was like, 'Oh my gosh.'"
Lexe had a shot and she took it.
"I remember watching the keeper. It was like slow motion going through the air and then she missed it," she says. "It hit the back of the net and I was in disbelief. Oh my gosh I scored."
Lexe was mobbed by her teammates who celebrated the inspirational moment.
"The doctors said don't hug anyone but this was a moment that needed hugging."
Lexe's goal was posted on YouTube and has provided inspiration to many who are fighting the same disease. The family has been contacted by people from all across the world through their blog, "Lexe Kicks Leukemia"
"Its symbolic of fight like hell," says her father. "If you are going to get in the game you might as well give it 100 percent and if you have an opportunity to take your shot, take it."
The inspirational goal also provided closure for Lexe as she puts her full energy into beating cancer.
"I hope it inspires people to know that they should not be thinking why me?" Lexe says. "I hope it inspires them to have a positive attitude that they can do anything. Chemo doesn't have to win."
×
Photos
Most recent Utah stories