Estimated read time: 2-3 minutes
This archived news story is available only for your personal, non-commercial use. Information in the story may be outdated or superseded by additional information. Reading or replaying the story in its archived form does not constitute a republication of the story.
Lori Prichard ReportingOn election eve, a warning to those who want to steal their political opponents' signs. Don't do it!
Gary Heintz found that out the hard way, and he says he's not even political! Such thefts have politicians, police and others asking questions.
What appeared to be misdemeanor theft turned out to be a big misunderstanding. But it left both sides agreeing Gary Heintz was in the wrong place at the wrong time. Is the man a bandit or playing a bad joke? It turns out, neither.
Here's how the comedic caper began: Darrin Walkenhorst was tired of having campaign signs stolen from his yard, so he set up a trap to stop a thief from swiping the signs.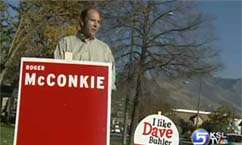 "I had a cow bell from the Olympics. I hooked that to my front [door] knob and tied the string to that. I slept on the couch that night in my tennis shoes," he explained.
When the cow bell rang, Darrin shot up and out the door.
"I kept my distance. I didn't want to do anything stupid," he said.
Stupid, silly, and embarrassed is how Gary Heintz says he feels after finding himself in the middle of this mix-up. He's so embarrassed he didn't want to be shown on our camera, but did want to show us what he was up to.
He says he's an architect, not an amateur thief. He says the videotape of him in Walkenhorst's yard is a study in columns built inside cardboard -- cardboard political signs.
"He was looking at them for some other business things. He's interested in the material the signs are made out of," Walkenhorst said. "He apologized to me and my family."
So was it a material breach, not malicious theft? Walkenhorst thinks so.
"Wrong place, wrong time," he said. "You never know where there is a video camera these days."
Salt Lake City police cited Gary Heintz. Darrin Walkenhorst says he will call the courts first thing tomorrow and have any charges dropped.
×
Related links
Most recent Politics stories