Estimated read time: 7-8 minutes
This archived news story is available only for your personal, non-commercial use. Information in the story may be outdated or superseded by additional information. Reading or replaying the story in its archived form does not constitute a republication of the story.
SANTA CRUZ Calif. — Hookworms might be a viable treatment for autoimmune diseases like allergies, asthma, type 1 diabetes, Crohn's disease, irritable bowel syndrome and multiple sclerosis. Doctors call this type of therapy helminthic therapy.
According to a report in the UK paper The Observer, a former California resident suffering from acute allergies discovered a bizarre medical trial using hookworms as treatment. The man, Jasper Lawrence, was declined as a participant, so he resolved to self-medicate. His experiment was such a success he later developed a business selling hookworm kits over the internet. The FDA classified his "kits" as pharmaceuticals and told him Lawrence was under investigation. He then fled the United States.
The 'hygiene hypothesis'
In the British Medical Journal in 1989, Dr. David P. Strachan posited a scientific theory called the "hygiene hypothesis." According to the theory, many modern diseases have gotten out of hand and are rapidly growing in industrialized western countries because of chlorinated drinking water, vaccines, antibiotics and the sterile environment of early childhood. Moreover, it is theorized that since we have become so good at preventing infections, we have upset the internal balance and ecology in our bodies. One missing element of hyper-clean and sterile environments is that our inflammatory responses do not function as they should. Parasites and bacteria play a symbiotic role in preserving our health.
---
When I read that stuff, everything immediately made sense to me. In our obsession with cleansing and sterility, with the eradication of parasites we had thrown the baby out with the bath water.
–Jasper Lawrence
---
In the late 1980s, Nottingham University medical professor David Pritchard made a trip to Papua New Guinea. While there, he found that many of the natives were infected with the Necator americanus hookworm. Hay fever and asthma were uncommon in spite of the huge amounts of allergens occurring naturally in that tropic environment. Pritchard wondered if the hygiene hypothesis might explain why there were so few cases of autoimmune diseases in the tropics.
Pritchard conducted clinical trials seeking answers. At the start of his research he did the unthinkable: He infected himself with 50 hookworms. His theory was that hookworms in small numbers could regulate human inflammatory responses intheir hosts.
Later, another colleague, Dr. Rick Maizels of Edinburgh University, confirmed Pritchard's research and subsequently identified the process. Maizels found that the white T-cells in the blood regulate immunity responses, and the hookworms cause an increase in white T-cells.
Hookworms and humans
Hookworms typically infiltrate a human host when larvae, hatched in human excrement, penetrate the soles of the feet, enter the bloodstream, travel through the heart and lungs, and are swallowed when they are coughed up.
It is estimated that in underdeveloped countries about 740 million people are infected. Hookworms can cause anemia and speed up the process of malnutrition and stunt growth in children.
On average hookworms measure about 1 cm long and can survive about five years latching on to the intestinal wall, siphoning off tiny amounts of blood, and — this is the crucial part — regulating the volume of immune responses. They mate inside the host, with females laying up to 30,000 eggs per day — up to 50 million eggs during a lifetime — which pass out in feces.
Hookworms cannot and do not replicate in the gut, are not infectious, and are limited to maturation only in the small intestine. In small numbers doctors consider them to be harmless, and are easily eradicated with either hygienic practices or possibly antibiotics, or both.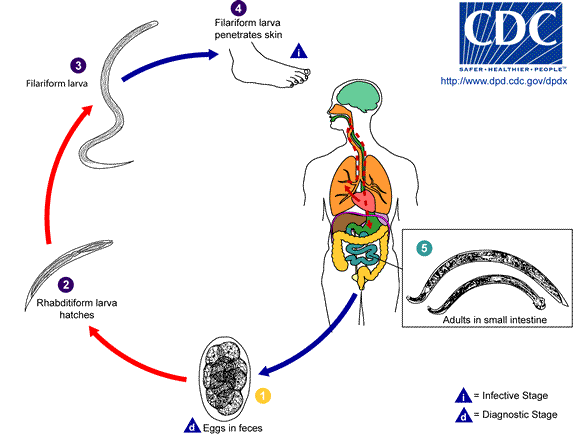 A last resortAccording to The Observer, Lawrence said, "My life had declined … with asthma. Modern medicine seemed to have nothing to offer me except palliative drugs. … I felt there wasn't a choice for me."
Then Lawrence heard about Pritchard and Maizels' studies.
"When I read that stuff, everything immediately made sense to me. In our obsession with cleansing and sterility, with the eradication of parasites we had thrown the baby out with the bath water," he told The Observer. "The central idea is that our bodies have an internal ecosystem. One of the ironies of this, to me, is that everyone is concerned about biodiversity in the outside world and saving the rainforest, but we've also screwed up the biodiversity inside us."
Lawrence immediately began a process to try to get accepted as a participant in one of several ongoing university studies investigating the therapeutic use of hookworm and whipworm parasites. In spite of his best efforts, he was declined.
Lawrence reasoned that infecting himself was a last resort but worth a try. He heard that the African country of Cameroon was a paradise for hookworms, and a large number of people there were infected. He immediately began a campaign to poll his friends involved in the medical profession.
"I sent them all the research and asked them their opinion," Lawrence told The Observer. "They all said the same thing: 'Yes, it appears safe, but I would not advise you to do this; you need to wait 20 or 30 years for all the studies to come in, for a molecule to be identified and a drug to be tested.'"
But Lawrence wasn't about to wait. Instead, he made the trip to Cameroon and spent the next two weeks walking around barefoot in public latrines in an attempt to infect himself with hookworms.
A stunning outcome
After he returned home to Santa Cruz, Lawrence had no idea if he had succeeded. At the end of the incubation period, six or eight weeks, Lawrence hoped to have embryos in his feces. He sent his stool samples to a lab for confirmation and they came back negative.
Lawrence was later shocked when he accidentally discovered his symptoms had abated. He also discovered that the reason the lab results came back negative was because the labs did not know what they were looking for, since hookworms are uncommon in humans in the United States.
His experiment had worked.
Bizarre experiment turns into bizarre business
Lawrence followed up on participants involved in the clinical trials in the UK. Several of the participants had gone into a lasting remission. That gave him an idea.
Lawrence consulted his friends in the medical field about finding a medically viable way to produce sterile, safe hookworm eggs in small patches that he could sell over the internet to infect interested people. He developed a kit and began selling them with five years of treatments, including support services, for $3,900. He justified the cost by comparing the cost of multiple sclerosis drugs that can easily surpass $150,000 a year.
Lawrence's business grew slowly but steadily for the next three years. His reception on the internet was extraordinary. Nearly all of the feedback was positive.
Meanwhile, Lawrence is quoted in The Observer as saying, "To our misfortune an unknown bureaucrat decided to classify it (our product) as a pharmaceutical." He had hoped the U.S. Food and Drug Administration would stay out of it, or classify his product as a supplement.
In November, the FDA visited his California home warning him he was under investigation. He has not been charged, but Lawrence got spooked and fled the United States. In exile, Lawrence still sells his product but is hyper-vigilant and does not keep a permanent address.
Mel Borup Chandler lives in California. He writes about science-related topics, technological breakthroughs and medicine. His email address is mbccomentator@roadrunner.com.
×
Related links
Related stories
Most recent Science stories