Estimated read time: 3-4 minutes
This archived news story is available only for your personal, non-commercial use. Information in the story may be outdated or superseded by additional information. Reading or replaying the story in its archived form does not constitute a republication of the story.
Tonya Papanikolas Reporting Utah Hispanic leaders say there's a misconception among voters that Latinos are against school vouchers. The community leaders held a press conference today to show their support for Referendum 1.
When it comes to the Latino community, not everyone agrees, but it seems most Hispanic families believe vouchers can help close the achievement gap between white and Hispanic students.
Latino business, political and community leaders gathered today to address school vouchers. "Minorities overwhelmingly support school choice, especially Hispanics," voucher advocate Marco Diaz.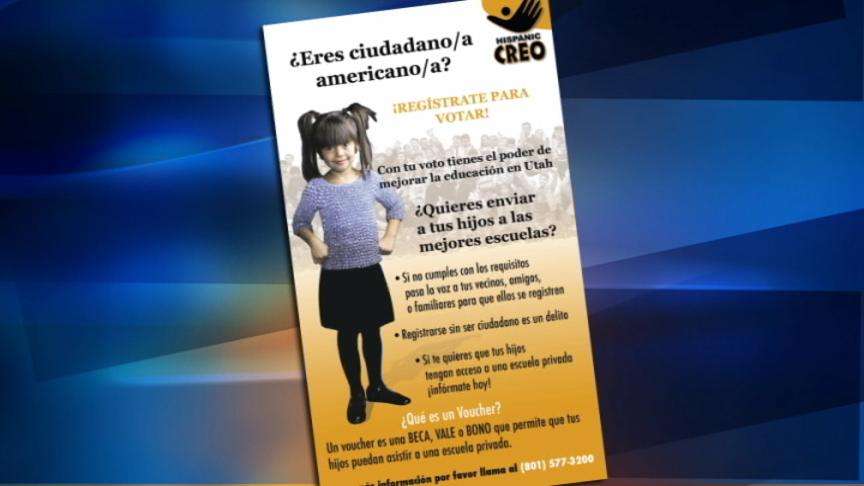 Tony Yapias, who also favors vouchers, said, "There's a general perception out there that Latinos are against it, or that all Latinos are against it, and that's not the case."
A recent national poll found 43 percent of Hispanic voters say school choice is their most important issue. Seventy-five percent say if they had the chance to take advantage of a school voucher, they would be interested. "As a mother, I want my daughter to go to the best schools," explained Claudia Cornejo Debrunet, also a voucher advocate. "The private schools, I believe they have the best education."
Debrunet says her 9-year-old daughter Justine has struggled in public school. "She didn't have the attention with the teacher one-on-one, so she fall behind," she explained.
"Unfortunately, many of our Hispanic kids are struggling in schools. About 40 percent of them are dropping out," Diaz said. "We believe if we leave things at status quo, things will continue to get worse."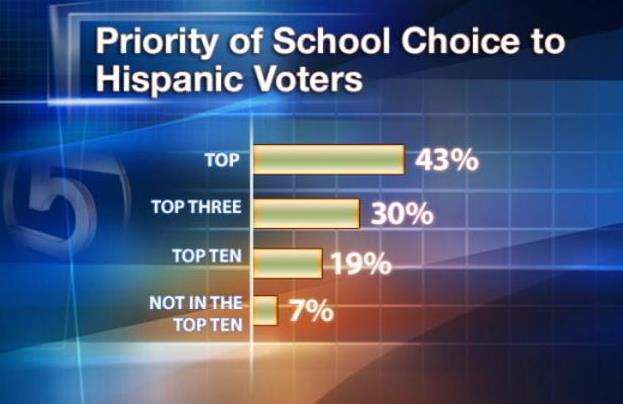 The Latino community has launched a media campaign encouraging people to vote, and for the general public, voucher debates are becoming more common.
During a debate at Jordan Commons today, voucher opponent Christian Burridge questioned, "So, what we want to do here is take over $400 million dollars on a gamble into a system that doesn't have any accountability?"
However, voucher advocate Richard Eyre said, "Accountability is a marketplace where a poor person has a voucher he can spend like money."
Matthew Bowen, a citizen who attended the voucher debate, said he thought it was helpful. "Addressing points from either side, I feel like it was something that helped me form on opinion on it," Bowen said.
Others who attended agreed. "I just think it's healthy to get people talking and get people thinking about it," Camille Mendal said. "Any time you get in a debate situation, you are always gonna hear the talking points of either side. So, truthfully, you really need to find out what's in your child's best interest."
If you're interested in finding out more about vouchers, three more debates takes place tonight. To find out where, click the related link.
On October 17, 2007, KSL 5 Eyewitness News aired a report evaluating the truth of certain claims made in recent political advertisements. One portion of this report evaluated ads being aired by both proponents and opponents of Referendum 1. In the story, KSL took no position for or against Referendum 1, and no position either for or against Referendum 1 was intended to be implied by the story. Recently, an organization that supports Referendum 1 sent out a direct mail flier quoting portions of KSL's news story as support for that organization's views about Referendum 1. KSL believes that the flier implies that KSL itself produced, or was at least involved in producing, the flier. This is not the case.
Indeed, the KSL Editorial Board has aired an editorial stating that it is opposed to Referendum 1. KSL strongly encourages all citizens to carefully and independently research this and other political issues before casting their votes at the polls.
×
Related links
Most recent Politics stories