Estimated read time: 2-3 minutes
This archived news story is available only for your personal, non-commercial use. Information in the story may be outdated or superseded by additional information. Reading or replaying the story in its archived form does not constitute a republication of the story.
SALT LAKE CITY — Bicyclists, joggers, equestrians and even ambitious commuters can now celebrate the completion of a one-mile segment of the Jordan River Parkway Trail that connects Salt Lake County to Davis County.
"Having 35 miles of protected, unbroken bicycle and pedestrian trail access that is both a recreational scenic splendor and practical commuter option is a fabulous accomplishment," said Salt Lake City Mayor Ralph Becker.
The mayor was joined by Salt Lake City Councilman Carlton Christensen and Davis County Commissioner Louenda Downs at a Thursday event marking the occasion.
Described as decades in the making, the project includes not only a 10-foot wide asphalt trail, but a 5-foot wide horse trail and 1,000 feet of elevated boardwalk through a wetlands area. There's also a trailhead parking area at approximately 1800 North Redwood Road.
Christensen recalled construction of the initial segment of the Jordan River Parkway Trail in the 1980s by the state and how far it has come since then.
"This is a great day," he said. "Our residents in this area have as much if not more in common with the residents of southern Davis County as they do other areas of Salt Lake City. They don't care about political boundaries."
Andrew Gruber, executive director of the Wasatch Front Regional Council, echoed that sentiment, adding that the segment's completion demonstrates that geopolitical differences can be overcome.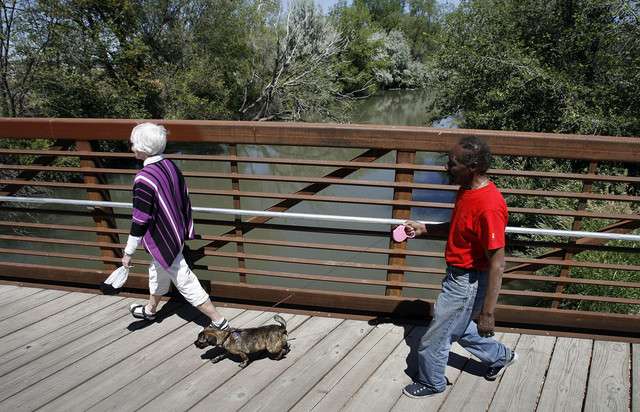 "The completion of this particular segment of the trail is symbolic of something larger. The fact that it connects two counties, Salt Lake County and Davis County, is significant in that it is an example of the need to work across city and county boundaries, to cooperate to get things done," he said. "The entire trail is an exemplary example of that cooperation."
The new section of the trail extends one mile from Redwood Road at approximately 1800 North to the Davis County line. Trail users can now travel from Salt Lake City to Davis County and other northern Wasatch Front communities through the interconnection of the Jordan River Parkway Trail, the Legacy Parkway Trail and the Denver & Rio Grande Western Rail Trail. The total continuous off-street trail system from North Temple in Salt Lake City to Roy in Weber County is now approximately 35 miles.
City officials said there is only one section of the Jordan River Parkway Trail in Salt Lake City remaining to be completed: a half-mile section between 200 South and North Temple. That segment will be a challenge because the trail will need to cross three Union Pacific rail lines and one local rail line. Throughout the entire trail system, three additional gaps remain: one in West Jordan and two in Bluffdale.
×
Photos
Related links
Related stories
Most recent News stories
More stories you may be interested in