Estimated read time: 3-4 minutes
This archived news story is available only for your personal, non-commercial use. Information in the story may be outdated or superseded by additional information. Reading or replaying the story in its archived form does not constitute a republication of the story.
Courtney Orton ReportingA judge has unsealed 16 documents filed prior to polygamous-sect leader Warren Jeffs' September trial on felony charges of rape as an accomplice.
The documents were sealed prior to Jeffs' trial for rape as an accomplice because of concerns they would affect Jeffs' right to a fair trial.
The decision to unseal the documents comes one week before a scheduled hearing. That hearing will address public records requests to see those documents.
The court documents include transcripts of recorded jailhouse statements made by Warren Jeffs where he renounces his role as a prophet.
The release comes after lawyers filed motions in April on behalf of newspapers and broadcast outlets, including KSL, to allow the documents to be released to the public.
Jeff Hunt, attorney representing Utah Media Coalition, says, "It serves an education function to have these types of documents released so the public can understand what's happening in its public courts. And also, this is a case of significant public importance and extremely high public interest."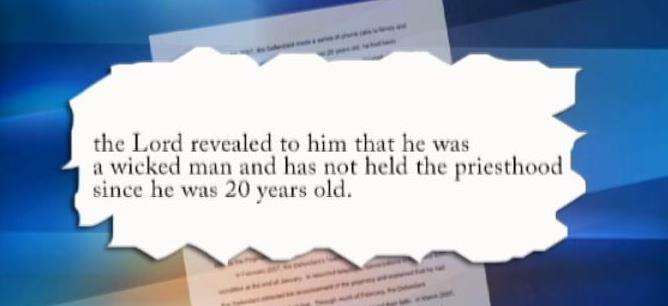 The documents state that in a series of phone calls beginning on Jan. 24 from the Purgatory Correctional Facility, Jeffs told family and select followers that when he was 20 years old he had been immoral with a sister and a daughter, and that the Lord revealed to him that he was a "wicked man" and has not held the priesthood since he was 20 years old.
He renounced himself as the Prophet again when he visited with his brother Nephi the next day. During the visit, Jeffs said he had been fasting for three days and had not slept the previous night.
At one point, he began to dictate a religious message to followers but halted mid-sentence and remained silent for 13 minutes.
During this period, Jeffs suffered what has since been described as a mental and physical breakdown. He was taken to the hospital and was treated for an undisclosed medical problem. The documents show that Jeffs lost 30 pounds, was dehydrated and suffering from sleep deprivation while in the jail.
In a recorded phone conversation in February of this year, Jeffs retracted his renouncement and explained that he had experienced a "great spiritual test."
Prosecutors tried to use the statements in the trial, but Jeff's attorneys objected, and Judge James Shumate sealed the documents.
The documents were suddenly made public yesterday with no explanation; other court documents could be unsealed next week following that scheduled hearing.
We tried to reach Jeff's attorneys for a comment, but they haven't returned our calls yet.
Jeffs is scheduled to be sentenced on Nov. 20. He was convicted of two first-degree felony counts of rape as an accomplice for his role in the marriage of a 14-year-old follower to her 19-year-old cousin. He faces life in prison.
He also is awaiting trial on similar charges in Arizona.
Jeffs, 51, is head of the Fundamentalist Church of Jesus Christ of Latter Day Saints, a faith that practices polygamy on the Utah-Arizona border.
(The Associated Press contributed to this report)
×
Related links
Most recent Utah stories