Estimated read time: 2-3 minutes
This archived news story is available only for your personal, non-commercial use. Information in the story may be outdated or superseded by additional information. Reading or replaying the story in its archived form does not constitute a republication of the story.
Whit Johnson ReportingA high school football game last week took a violent turn when a coach on the sideline apparently stomped a pheasant to death.
Gene Baierschmidt, director of the Humane Society of Utah said, "We were outraged, and we thought it was a cruel and callous act and was avoidable."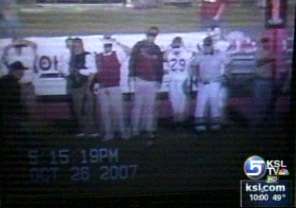 The game was Friday night at American Fork High School. The Cavemen were taking on the visiting Viewmont Vikings. The Humane Society of Utah is now reporting three people involved face charges.
The reaction, as you can imagine, from people who witnessed the incident was absolute shock.
Kaleen Jerman shot video of the event. On it you can see the pheasant being shooed off the field by the players. When it gets to the sideline it appears that one of the coaches stomps on the bird several times. A woman actually runs up to the pheasant and pushes the coach away.
You can't hear it in the video, but after the incident there was an uproar of loud boos from the crowd.
"People around me knew instantly what had happened. I don't think anybody questioned that, 'Oh some guy just stumbled over there.' People had felt like this person had purposely tried to get rid of that bird," Jerman said.
The Humane Society of Utah was told by authorities in American Fork that two people in the stands released the pheasant onto the field as a prank. Those two individuals and the assistant coach of the Viewmont Vikings, who apparently stomped on the pheasant, are now facing class B misdemeanor charges.
Baierschmidt said, "People are going to forget about the football game, but they're going to remember that they saw a pheasant stomped to death."
The Humane Society of Utah hopes that the people who were involved will be punished to the fullest extent of the law. They're also encouraging the Davis County School District to take action. American Fork authorities say they would not comment on the investigation until tomorrow.
×
Most recent Utah stories