Estimated read time: 3-4 minutes

This archived news story is available only for your personal, non-commercial use. Information in the story may be outdated or superseded by additional information. Reading or replaying the story in its archived form does not constitute a republication of the story.

Tonya Papanikolas Reporting

On October 17, 2007, KSL 5 Eyewitness News aired a report evaluating the truth of certain claims made in recent political advertisements. One portion of this report evaluated ads being aired by both proponents and opponents of Referendum 1. In the story, KSL took no position for or against Referendum 1, and no position either for or against Referendum 1 was intended to be implied by the story. Recently, an organization that supports Referendum 1 sent out a direct mail flyer quoting portions of KSL's news story as support for that organization's views about Referendum 1. KSL believes that the flyer implies that KSL itself produced, or was at least involved in producing, the flyer. This is not the case.

Indeed, the KSL Editorial Board has aired an editorial stating that it is opposed to Referendum 1. KSL strongly encourages all citizens to carefully and independently research this and other political issues before casting their votes at the polls.

Hundreds of teachers opposed to school vouchers attended a demonstration today at the annual Utah Education Association (UEA) convention.

Several hundred teachers let their hands do the talking today at the convention. "We did not pick this fight, but we will fight it on behalf of Utah's half a million children attending public schools," UEA President Kim Campbell said.

Speakers from several education organizations emphasized public money should be spent on public education. "Shouldn't we be investing this money in our public schools instead?" Campbell asked the crowd.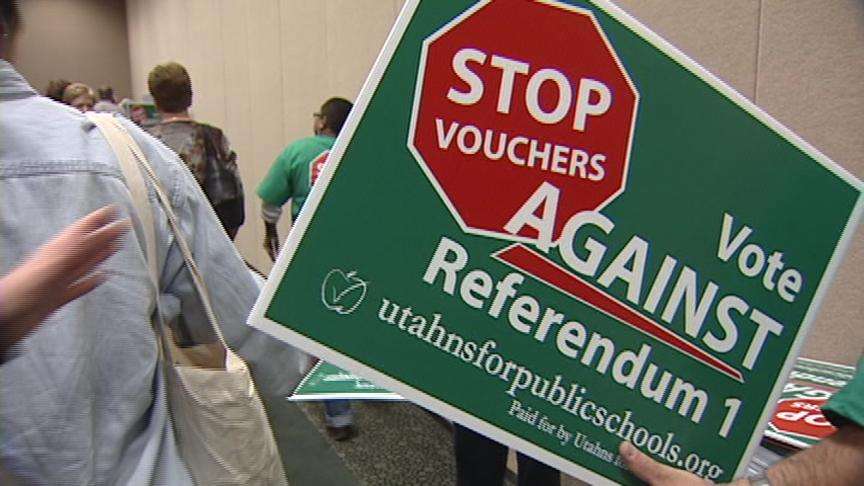 Joan Heap, a teacher against vouchers, said, "You can't take a half a billion dollars and put it into private school vouchers and not have public education suffer."
Many teachers wore anti-voucher T-shirts. The majority grabbed signs to demonstrate outside. At one point during the meeting, teachers stopped to call and thank legislators who voted against vouchers.
Teachers expressed anger at the idea Utah needs vouchers because public schools are broken. "We hear the term 'failing schools.' That's not true," Heap said.
Andrew Anthony, another teacher opposed to vouchers, said, "It's almost offensive and insulting to me to be told that the vouchers need to be put in place because what we're doing is not good enough."
Teachers who favor vouchers say it's more about giving students extra options. "I'm gonna give 100 percent to whatever child comes in my classroom, but public education isn't for everyone; and if that child needs specific needs met, this gives them that option," teacher Britney Mendel said.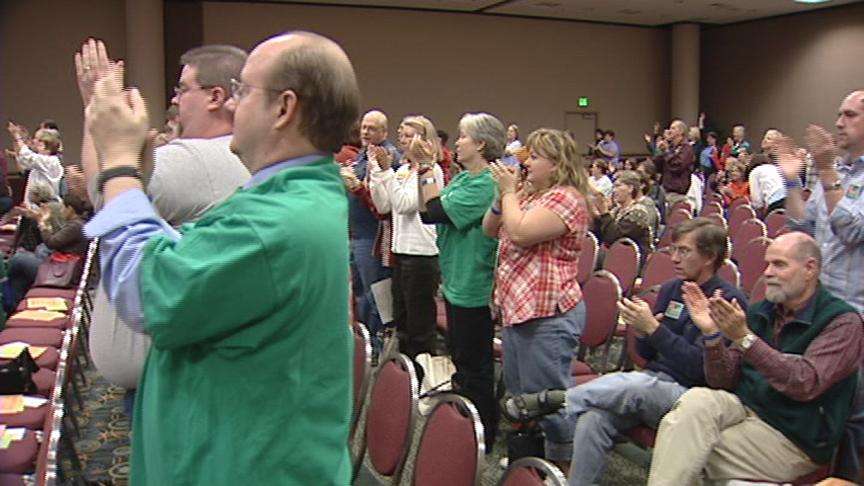 Mendel says quite a few teachers favor private school vouchers, but they're often afraid to speak out. She sees Referendum 1 as a win-win for everyone. "It's a win for me as a teacher; it will reduce class sizes, it will provide extra funding that we would otherwise not have in the system," she said.
Two sides with strong opinions are both encouraging Utahns to get out and vote.
Election Day is Tuesday, Nov. 6.
×
Related links
Most recent Politics stories