Estimated read time: 2-3 minutes
This archived news story is available only for your personal, non-commercial use. Information in the story may be outdated or superseded by additional information. Reading or replaying the story in its archived form does not constitute a republication of the story.
(KSL News) Typically when a person nominates someone for a KSL High 5, they know that individual's name and where they live. Sylvia Glade didn't know much about the man she nominated, but she knew his smile.
Our Brooke Walker wasn't sure what to expect when she arrived at the corner of 3600 West and 3800 South in West Valley. She found "The Crosswalk Grandpa."
His sign is just a prop. It's Duane Larsen's smile that stops traffic.
"I always want to have a smile," he told us.
It's a lesson Duane learned from his father.
"He always told me to smile and to make people feel happy," he explained. "So that's what I've done for almost 80 years."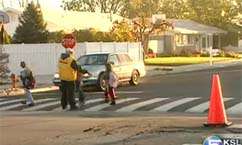 He continues to do it every morning as he greets hundreds of West Valley drivers. He waves and the drivers wave in return.
"I try to wave at every car. I don't always make it. It's something that I really enjoy. It's been a great thing in my life to be here and to see people smile. Some of them say, 'I was really in doubt when I came and you waved at me, and that's what started me to have a good day.' That makes me feel like I'm really doing something that is good," Duane said.
While Duane's name usually goes unknown, his face is famous.
"They say, 'Are you a crossing guard? Do you work on 36th?' 'Yes.' 'We see you every morning.' I say, 'Yes,'" Duane said.
Motorist Ian Chandler said, "It's kind of infectious. You go back to work and say, 'I just saw the happiest old man ever. If I'm like that one of these days, that will be a good time.'"
Sylvia Glade nominated Duane for the High 5. She said, "I just love him. I don't know what his name is, but he does an awesome job."
So, if your morning is off to a slow start, take a drive down 36th West. That's where one man smiles for one reason: "To make somebody else feel good," he said.
If you'd like to nominate someone for a High 5, follow the link on this page.
×
Related links
Most recent Utah stories