Estimated read time: 2-3 minutes
This archived news story is available only for your personal, non-commercial use. Information in the story may be outdated or superseded by additional information. Reading or replaying the story in its archived form does not constitute a republication of the story.
OGDEN — The rocket car gets Mike Bachman, a man known for building and rebuilding many cars, the most attention. It's built from an old bomber fuel tank. It's got a grenade at the end of the gear shift, and the fuel tank is an old beer keg that you can see on the inside.
It's actually just one piece of a large collection, representing a lifelong hobby. He's been rebuilding cars since he was about 12 years old.
"They ask me 'What is it'? And I say 'It's the bomb," Bachman said of the car. It's an improvised vehicle, Bachman built himself. A 1929 model A Ford on the bottom and a bomb on top.
"(I) built it out of a wing tank out of Smith & Edwards in Pleasant View," he said. He bought that tank just over a year ago and showed it to his wife.
"Debbie says 'What are you going to do with that? And I said, 'I'm gonna build me a car.'"
A few months later, it was on the road and totally street legal.
"Everywhere I take it, people take pictures of it. Want me to pull over, want to talk about it," Bachman said.
But the bombis just the beginning. Mike Bachman keeps more than twenty garages, and many cars: a 1920 model T truck, a 1955 Chevy, a 1966 El Camino and more.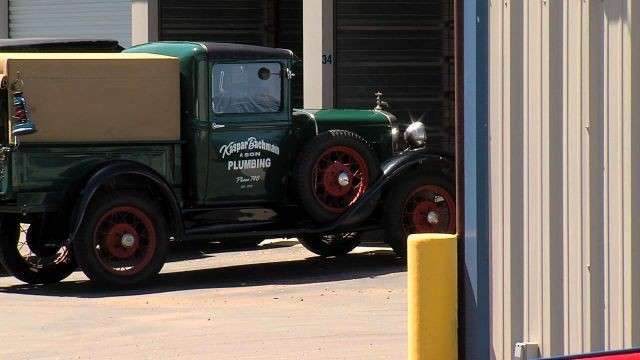 "I was adding up one month what it was costing me for storage, and I thought, well, I could probably make a payment on my own storage sheds." Which he did, and he built his own storage units.
Each car has a story, and many have sentimental value, like the '55 Chevy four-door that he wanted when he was in high school. Or the vehicle built to look like the truck his great-grandfather drove for their plumbing business, a company that Bachman still runs today.
"I do some car shows and the guys always say, 'Oh you're the plumber,'" Bachman said.
But because each of these cars are so personal, it makes this hobby about more than the sum of their parts. "They all got their own personality. They all got their own spirit," he said.
Because of those individual personalities, Bachman doesn't really sell the cars anymore. He just keeps adding them on to the collection.
×
Photos
Related stories
Most recent Utah stories