Estimated read time: 3-4 minutes
This archived news story is available only for your personal, non-commercial use. Information in the story may be outdated or superseded by additional information. Reading or replaying the story in its archived form does not constitute a republication of the story.
HELPER — With its driver asleep at the wheel, the ¾-ton pickup truck jumped the first curb on the south side of the tiny white house at the intersection of Main and Janet streets.
It crossed the sidewalk at an estimated 30 mph and hopped another curb.
Then, it went airborne.
"I remember waking up to hear my fiancé scream, 'Help me!'" Megan Clark said Monday as she recounted the May 3 incident.
"I reached out to touch him, and I couldn't," Clark said. "There was a lot of pressure on my chest. I couldn't really breathe really well. I knew my leg was stuck. I could feel debris of some sort with my left elbow. My right hand was the only thing I had free and I could feel some sort of piping."
---
He said, 'You're under a truck right now,' and I said, 'I can't be under a truck. I'm sleeping in a bedroom.'
–Megan Clark
---
The truck, carrying three oil-field workers, had smashed through the wall of the rental home where Clark and her fiancé, Ryan Smith, were sleeping about 4 a.m. Smith and the men in the truck were able to escape, but Clark was pinned.
"I thought the roof had collapsed," she said.
Emergency crews knew otherwise.
"Her head was approximately under the motor (of the truck)," said Helper Fire Chief Mike Zamantakis.
Firefighters wanted to get to Clark, but first they had to deal with another major problem. The truck had snapped off the home's natural gas meter and was parked on top of the ruptured line.
"This gas meter was just hissing like mad," Zamantakis said. "You had all this gas on the west side of the house. You could smell it for at least a block away, so you know, we had a potential bomb sitting there."
Surrounding homes were evacuated and crews were forced to back off and wait for an hour until the nearest Questar worker could arrive. Firefighters explained the situation and the Questar worker climbed under the truck and pushed a wooden plug into the gas line to stop the leak, Zamantakis said.
Natural gas levels inside the house had reached 38 percent concentration before crews could use fans to ventilate it and make entry, the chief said.
Clark had been trapped beneath the truck, going in and out of consciousness, for more than an hour when she heard the first firefighter's voice.
"He said, 'Is anybody there? Hello?' and I remember saying, 'Hi,'" Clark said.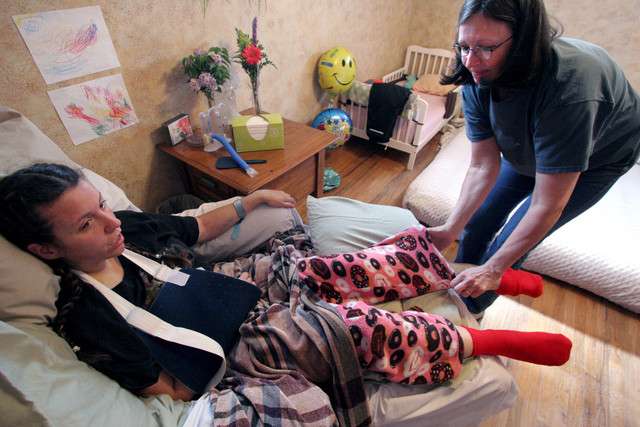 "We heard him holler, 'She's alive! She's still alive!'" Zamantakis said.
The firefighter started talking to Clark, trying to keep her conscious and trying to gauge how serious her injuries were. He asked if she knew where she was. She told him she thought she was trapped beneath the collapsed roof of her house.
"He said, 'You're under a truck right now,'" Clark recalled, "and I said, 'I can't be under a truck. I'm sleeping in a bedroom.'"
It took about 20 more minutes to free Clark. Paramedics initially believed she had sustained a broken femur and multiple internal injuries. But doctors only diagnosed her with a fractured vertebra, a broken clavicle and numerous cuts, scrapes and bruises.
Clark's fiancé also escaped with minor injuries. No injuries were reported for the three men in the truck.
Investigators believe the driver of the truck, 21-year-old Jacob Hughes of Roosevelt, fell asleep at the wheel, said Helper Police Chief Trent Anderson. They have ruled out alcohol and drug use as contributing factors in the crash, he said, and expect to issue Hughes a citation.
Clark, a mother of twin 2-year-old girls, said she spent much of her time under the truck thinking about her family, and how they would deal with her death. She said she's grateful for all the people who came to her aid.
"I believe if they didn't all do what they did, when they did it, I wouldn't be here," she said.
×
Photos
Most recent Utah stories