Estimated read time: 2-3 minutes
This archived news story is available only for your personal, non-commercial use. Information in the story may be outdated or superseded by additional information. Reading or replaying the story in its archived form does not constitute a republication of the story.
SALT LAKE CITY — In what was certainly a giant leap for fake fowls everywhere, a rubber chicken was sent into space during a solar storm as a part of an astrobiology project.
High school students in Bishop, Calif. used a helium balloon to launch the toy bird, named Camilla, to an altitude of 120,000 feet.
Camilla was exposed to high-energy solar protons during the biggest radiation storm since 2003.
"We equipped Camilla with sensors to measure the radiation," Sam Johnson, 16, of Bishop Union High School, told NASA. "At the apex of our flight, the payload was above 99 percent of Earth's atmosphere."
Camilla is already a familiar sight to space enthusiasts. The bird is the mascot of NASA's Solar Dynamics Observatory.
For her flight, Camilla was dressed in a space suit knitted by Cynthia Coer Butcher, of Blue Springs, Mo. Fixed to the suit were two radiation badges, which medical technicians and nuclear workers wear to assess their radiation levels.
Camilla was first launched March 3 before the radiation storm, and again March 10 during the storm, for comparison. The high school's Earth to Sky team, assisted by a class of fifth-graders, released the bird, attached to a balloon, parachute and payload, around noon.
"It was a beautiful lift-off," says Amelia Koske-Phillips, 15, the team's payload manager and "launch boss."
According to NASA, Camilla spent 90 minutes of the 2.5-hour flight in the stratosphere, after which the balloon popped — as planned — and the bird parachuted the 25 miles back to earth. The entire package was recovered intact in the Inyo Mountains, east of the Sierra Nevada range in Eastern California.
Included in the payload were four cameras, a cryogenic thermometer and two GPS trackers. Seven insects and two-dozen sunflower seeds were also included, to test their response to near-space travel.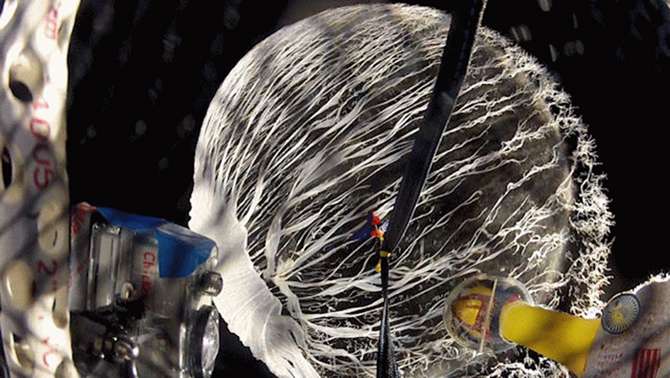 Camilla was launched March 10 into the strongest solar storm since 2003 — albeit one that did not have nearly the effect that was anticipated. It was powerful, nonetheless: between March 7 and March 10, the particles hitting Earth's atmosphere deposited enough heat to power every residence in New York City for two years.
The second mission was a success, as well, and Camilla was recovered near Deep Springs, Calif., according to Johnson.
Camilla's radiation badges have been sent to a laboratory for analysis, and the students hope the chicken will return to space in the future.
×
Photos
Related links
Related stories
Most recent Science stories