This archived news story is available only for your personal, non-commercial use. Information in the story may be outdated or superseded by additional information. Reading or replaying the story in its archived form does not constitute a republication of the story.
SARATOGA SPRINGS — Bee researcher Sandra Burnett exiled her backyard beehive to Spanish Fork after her husband learned that a recent city zoning change left them exposed to the sting of a class B misdemeanor.
"I really didn't want to go to jail," William Burnett said tongue-in-cheek from their home in northern Saratoga Springs.
Their next step was to start a dialogue with City Hall to see if they could decriminalize their honeybees. Sandra said her meeting Monday with Saratoga Springs Mayor Mia Love and other city officials went well, and she was asked to give the Planning Commission a 30-minute presentation on the virtues of honey bees when it meets on May 10.
"The mayor said we may be able to bring our bees back within two months," Sandra said.
Some people have dogs, others have cats. Both of the Burnetts are registered beekeepers, their hive registered with the state and subject to state inspection.
Bees are also part of Sandra Burnett's livelihood as a researcher and associate teaching professor in BYU's Micro and Molecular Biology Department. She acknowledges there isn't a huge public interest in her research involving the diarrhea honey bees can suffer when treated with a certain antibiotic that protects them from an insect virus called foul brood. But she is anxious to talk about other reasons residential beekeeping should be encouraged instead of criminalized.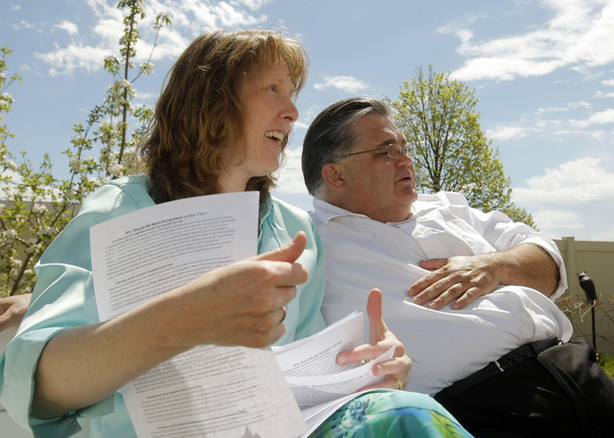 Docile honeybees displace more aggressive stinging bees and wasps, greatly multiply the harvest on backyard fruit trees for some distance around the hive, and are an important component in stemming the spread of Africanized bees, also known as killer bees. Sandra Burnett said trained beekeepers know how to spot and get rid of the "rowdy" killer bees and report their presence to state agriculture authorities.
The Burnetts' inquiry at City Hall on why bees were banned on lots smaller than an acre brought back several answers, from an oversight in a bigger process annexing farmland into the city last year to a complaint about bees buzzing a woman's children.
"Honeybees don't go around buzzing kids," Sandra Burnett said.
Holding up a two-sided document she wrote with talking points about honeybees, she said the Monday meeting with the mayor went well enough she was "actually a little disappointed. I didn't even get to the other side of my paper."
Neither the mayor nor city manager Mark Christensen could be reached later Monday for their take on whether a zoning change is to bee or not to bee, but the Burnetts know they may still have some ground to plow once a bee dialogue is restarted with the Planning Commission in a setting where public comment is invited.
Sandra Burnett is primed to tell a broad circle of her neighbors why they're better off with honeybees in a backyard near them. William Burnett said they're also poised to suggest conditions for safe beekeeping, like having hives inside fenced yards with locked gates.
William's advocacy for the honey bee also includes the obvious: "This is the Beehive State."
×
Photos
Related Stories