Estimated read time: 2-3 minutes
This archived news story is available only for your personal, non-commercial use. Information in the story may be outdated or superseded by additional information. Reading or replaying the story in its archived form does not constitute a republication of the story.
Nadine Wimmer ReportingThe second time was not the charm for many Hannah Montana fans. Many weren't able to get tickets to the Disney Channel star's second Salt Lake show, which happens next Friday.
Now parents are more frustrated than ever and are upset with scalpers, who are selling tickets for hundreds of dollars.
Just like her favorite TV star and singer, Holly Batchelor has a secret identity. She goes by "Holly Montana."
The 10-year-old girl can't get enough of the star.
"Well, she's cute, sings and her voice is good. She's good," Holly said.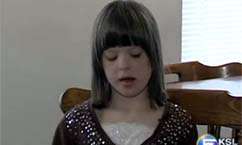 Holly's father, Gary Batchelor, said, "What I've seen has really helped her with her education, ability to communicate."
Gary worked the phone and computer this morning hoping to land a ticket for an added Hannah Montana show, for Holly's birthday.
"After an hour and a half I finally got someone, and they said the tickets were gone in the first minute," he told us.
That's a plight we heard over and over; dozens of e-mails from parents frustrated that thousands of tickets are in the hands of brokers, who are selling them online for as much as $1,000.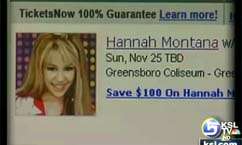 There was supposed to be a four-ticket per person limit. How did they get them?
One local seller we spoke with says he has a network of brokers across the country who buy tickets then sell them on each others' sites. And while scalping is legal in Utah, many parents feel it's still not right.
Nancy Buist said she's love to have her children go to the show, but it's just not worth it.
Nancy also tried for a second time to get tickets for her daughters. But once again, no tickets to this show, just disappointment.
Miley Cyrus, the actress who plays Hannah Montana, told a talk show host this week that she doesn't feel her concert is worth the high prices scalpers are charging, but she'll put on the best show she can.
×
Related links
Most recent Utah stories