Estimated read time: 2-3 minutes
This archived news story is available only for your personal, non-commercial use. Information in the story may be outdated or superseded by additional information. Reading or replaying the story in its archived form does not constitute a republication of the story.
Sarah Dallof Reporting A Salt Lake woman is getting ready to move into a brand new house, one she grew up in.
A fire made Brenda Marshall's 135-year-old house unlivable. But she was determined to hold onto it no matter what the cost.
Brenda didn't just get the keys to her home today, she also got a fresh start. She grew up inside these walls.
"My father really loved it. I loved it. I tried to do everything I could to keep it," she said.
And she has kept it. Even after a devastating fire, Brenda refused to sell.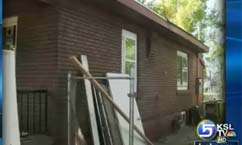 Maria Garciaz of Salt Lake Neighborhood Housing Service said, "For five years she'd been paying her mortgage on this, paying rent somewhere else."
Brenda explained, "Every time I thought about selling it I would go to sleep and a voice would come to me and say, 'Don't sell it.'"
The Trackside Project and the Salt Lake Neighorhood Housing Service donated tens of thousands of dollars and hundreds of hours to restore the home.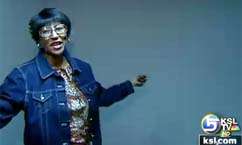 Project manager Philip Cannell told us, "It needed a total facelift, all new insides."
Now all that's missing is Brenda and her grandchildren. They'll move in this week but gave tours today.
Brenda said, "Another dream of mine has come true -- my own bathroom!"
And on top of that a brand new kitchen.
"Now we can cook some barbeque, have big dinners, turkey dinners, whatever you want. I'm willing to cook now," she said.
Those are dreams that volunteers were happy to help her fulfill.
Philip Cannell said, "Just to see the smile on her face was worth it."
"[I've] been wanting a walk-in closet my whole life, and now I have one," Brenda said.
For her it's more then a walk-in closet, more than a renovated house. It's a promise kept to her parents, a promise to take care of their home.
"My father has his chest stuck out saying, 'That's my daughter, that's me all over again,'" Brenda said.
Salt Lake Neighborhood Housing Services works to restore homes primarily on Salt Lake's west side, and it is always looking for volunteers. To find out more, follow the link on this page.
×
Related links
Most recent Utah stories