Estimated read time: 2-3 minutes
This archived news story is available only for your personal, non-commercial use. Information in the story may be outdated or superseded by additional information. Reading or replaying the story in its archived form does not constitute a republication of the story.
Alex Cabrero ReportingSnow fell in some areas, rain fell in others, as Mother Nature brought a taste of winter to parts of Utah on Saturday.
Saturday evening a slushy rain was falling in the Salt Lake Valley, while snow accumulated in the mountains along the Wasatch Front.
For many drivers, it takes time to get used to driving in the snow again. Just ask tow truck drivers near Parley's Summit.
People usually try to avoid driving in lots of snow, but Glen Dawes has no choice. He runs a tow truck for Summit Service in Parley's Canyon. On days like this he usually gets no lunch break.
"I've been pretty busy," he admits.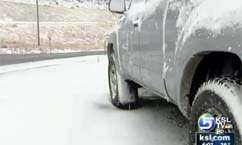 In fact, his co-workers at the shop barely see him. But this is the time of year when crashes and slide-offs are common. Co-worker Logan Rogers said, "We're rolling 24-7 pretty much."
Today Dawes spent more time on the road than a stranded hitchhiker, helping people who are not yet used to winter driving.
"It's a shock to everybody, I think," he said. "It goes from cold to hot to cold. That's how Utah weather is."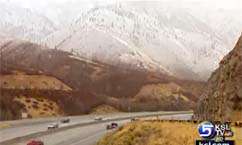 Although accidents and slide-offs are numerous in the snow, for many people snow means a lot of fun.
Summit Park resident Heather McEntire said, "I love the snow. I think it brings something fresh, just the renewal of each season."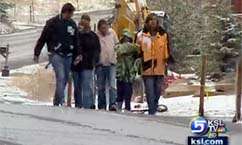 McEntire and her family walked uphill both ways in the snow just to get something to eat.
"My daughter lives so close, we thought that's silly to get in the car and get out again."
Some people love snow, whether they're playing or working.
Glen Dawes said, "I wish I had a little warmer job, but someone's got to do it."
- - - - - -
×
Related links
Most recent Utah stories