Estimated read time: 2-3 minutes
This archived news story is available only for your personal, non-commercial use. Information in the story may be outdated or superseded by additional information. Reading or replaying the story in its archived form does not constitute a republication of the story.
OREM — Instead of a ribbon cutting, it was a ribbon breaking.
Liquid nitrogen was used to freeze the ribbon, as the governor and university president used hammers during a science experiment, officially opening Utah Valley University's new science building.
"We have a state of the art facility with laboratories and classrooms and offices, and it will really allow us to move our science program forward," said UVU President Matthew Holland.
Each semester, two-thirds of the 33,000 students at UVU are in at least one science class, Holland said. Classes in chemistry, physics, biology and anatomy will be taught in the eco-friendly $40 million building that came in $10 million under budget.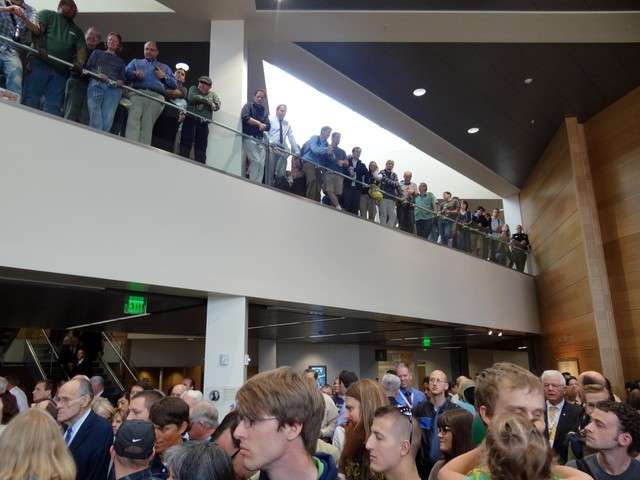 For students like Hannah Ouderkirk, the new science building is another plus to attending UVU.
"We have an excellent science department, (and) we have some of the best science teachers," she said. "I think giving them more room and more accommodations is really going to help things out."
The new building is a dream come true for Sam Rushforth, dean of the College of Science and Health. He's been lobbying for years for a new science building and said UVU produces graduates who are admitted to medical, dental and professional programs, above the national average.
"It's a marvelous place and the science programs will expand and flourish because of this building," said Rushforth.
State leaders, including Gov. Gary Herbert, believe the building is a worthwhile investment in Utah's economy.
---
There's going to be generations of students who come here and get a good education.
–Gov. Gary Herbert
---
"There's going to be generations of students who come here and get a good education," Herbert said, "and because of that, they will be able to contribute to an expanding economy, here in Utah, again adding to our quality of life and economic expansion."
Next week, 4,634 students will graduate from UVU, another record, as the university tries to keep up with continuing growth.
Ground will be broken this summer for a new student life building, and plans down the road include a new classroom building. But UVU students are already looking forward to classes this fall in the new science building.
"We just needed the simple space to expand with all of the students coming our way," said Holland. "But right along with that, we want to enhance and improve the quality of our educational enterprise."
×
Photos
Most recent Utah stories