Estimated read time: 2-3 minutes
This archived news story is available only for your personal, non-commercial use. Information in the story may be outdated or superseded by additional information. Reading or replaying the story in its archived form does not constitute a republication of the story.
Sam Penrod ReportingMore than 60,000 hunters hit the hills Saturday morning for the opening of this year's deer season. But many were on their way home by afternoon, after a severe winter storm hit.
The day started out OK. But then wind, rain, snow and cold set in. As hunters headed out at first light Saturday morning, the conditions were nearly perfect for hunting.
Ann Steele said, "We got up there really early, so we had to wait until it got lighter just because we couldn't see anything. We sat up there and talked to our son, and then as soon as it got light we started going down the road."
Steele bagged her first deer ever today as soon as it was light.
This is the second year Drake Snyder has gone hunting, and this is the first deer he's taken home.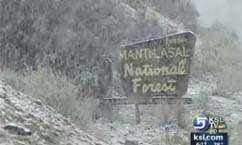 "It's about the third one that we've seen. We missed the first ones, but we got this one," he said.
Experienced hunters looked for easier opportunities.
Scott Miller said, "This one, we shot this not 30 yards from the truck, dragged it, threw it in. It was great."
The majority of deer brought through game checking stations Saturday were young.
DWR biologist Craig Clyde said, "We will typically get about 53 to 60 percent yearlings through this station. The rest will be older deer, and so there are bigger bucks there. You just have to be willing to pass up those small ones, and there are a lot of them, so it's tempting to take a smaller deer."
Wildlife managers also saw fewer deer than usual brought through check stations Saturday. They believe the weather is a factor. In many areas, the rain started around noon, and the snow wasn't far behind.
Tyler Miller said, "Morning was really good. Blew hard this morning, but we were able to get this buck really early before the weather really rolled in. But when it rolled in, it turned nasty in a hurry."
The rifle season continues until Wednesday in the south and southeastern regions, while hunters in the northern and central regions have until Oct. 28 to hunt.
(The Associated Press contributed to this report)
×
Related links
Most recent Utah stories