Estimated read time: 4-5 minutes
This archived news story is available only for your personal, non-commercial use. Information in the story may be outdated or superseded by additional information. Reading or replaying the story in its archived form does not constitute a republication of the story.
SALT LAKE CITY — GOP frontrunner Mitt Romney has been more outspoken than usual in recent days about an issue that has been dogging him since it was first introduced in 2007: a family car trip during which Romney put the family's dog in a kennel atop his car.
The candidate's opponents have repeatedly brought the dog — Seamus — up along the campaign trail. Romney has mostly remained quiet about the incident, but his campaign on Tuesday seized upon a story in the Daily Caller calling attention to Pres. Barack Obama's past experience with dogs.
In the post, Jim Treacher quotes from Obama's "Dreams from My Father: A Story of Race and Inheritance."
"With Lolo, I learned how to eat small green chili peppers raw with dinner (plenty of rice), and, away from the dinner table, I was introduced to dog meat (tough), snake meat (tougher), and roasted grasshopper (crunchy)," Obama wrote of his experience in Indonesia.
Romney campaign spokesman Eric Fehrnstrom on Tuesday embraced the story by retweeting a picture of Bo — the Obama family dog — that had been tweeted in January by Obama campaign head David Axelrod, saying the picture was "in hindsight, a chilling photo."
Obama campaign spokesman Ben LaBolt responded Tuesday by asking on Twitter what the next attack by Fehrnstrom "and the RNC will surface on a 6-10 year old?"
Kim Kardashian, Mayor of Glendale?
Los Angeles socialite Kim Kardashian raised eyebrows recently by saying during an episode of E!'s "Khloe and Lamar" that she is planning on running for mayor of Glendale, Calif. in "like, five years."
"I decided I'm going to run for the mayor of Glendale," she told her sister, Khloe Kardashian. "So, I have to buy a house there. You have to have residency there."
Kardashian, whose late father was a third-generation Armenian-American, cited the large population of people of Glendale residents of Armenian heritage as a potential reason for choosing that city.
City council member and former mayor Ara Najarian said Tuesday that Kardashian's announcement was "very exciting," even offering the socialite an opportunity to become his honorary chief deputy.
Kardashian may face a challenge regardless of whether she can win over the residents of Glendale, though. The city's mayor holds more of a ceremonial position and is not appointed directly by the public — instead, the city council votes every year to elect one city council member to preside over public meetings and perform ceremonial duties.
Romney urges Secret Service cleanup
Mitt Romney told radio host Laura Ingraham on Tuesday that he would "clean house" in the wake of a scandal involving Secret Service agents and Colombian prostitutes.
"The right thing to do is to remove people who have violated the public trust and have put their play time and their personal interests ahead of the interests of the nation," Romney said.
There are 11 Secret Service agents and 10 military personnel under investigation after allegations surfaced of misconduct during a trip to Colombia for the Summit of the Americas.
Democrat drops F-bomb on Fox News
Fox News host Bob Beckel dropped the F-bomb live on the air Monday night when a heated discussion during the commercial break continued after Sean Hannity's Fox News show had returned.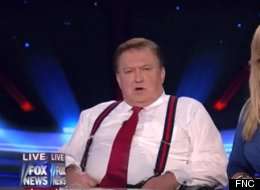 "You don't know what the (expletive) you're talking about!" Beckel yelled to fellow panelist Jennifer Stefano as the show returned.
After finding out the show had returned, Beckel still refused to apologize, telling Hannity he should do a better job at running his show.
"Now you're blaming me for this! You're like Obama!" Hannity replied.
Romney overheard detailing policy at closed-door meeting
After in the past refusing to go into detail about which programs or departments he would cut as president, Mitt Romney was overheard Sunday explaining specifics about policies he would support if he wins the election.
Romney was speaking to donors in the backyard of a private home in Palm Beach, Fla., but was overheard by reporters on the sidewalk below.
Romney reportedly introduced the possibility of eliminating the Department of Housing and Urban Development, but said he would combine multiple departments.
"But I'm not going to actually go through these one by one," he said. "What I can tell you is, we've got far too many bureaucrats. I will send a lot of what happens in Washington back to the states."
×
Related Links
Related Stories