Estimated read time: 3-4 minutes
This archived news story is available only for your personal, non-commercial use. Information in the story may be outdated or superseded by additional information. Reading or replaying the story in its archived form does not constitute a republication of the story.
AP Photo / Charlie NeibergallTeam Coverage
Mitt Romney and his faith once again are making headlines, as two evangelical pastors point in his direction: one positively, the other negatively.
Romney may not be the overall presidential front-runner, but just the mention of his name in some religious circles creates controversy.
Recently a prominent evangelical threw his support behind Romney, a Latter-day Saint, while another pastor told his Texas congregation Romney isn't who you think he is.
Romney may not want to focus on his faith, but Pastor Robert Jeffress stirred the religious pot during his sermon, Sept. 30. "Mitt Romney is a Mormon, and don't let anybody tell you otherwise. Even though he talks about Jesus as his Lord and Savior, he is not a Christian. Mormonism is not Christianity. Mormonism is a cult," Jeffress, of the First Baptist Church, told his congregation.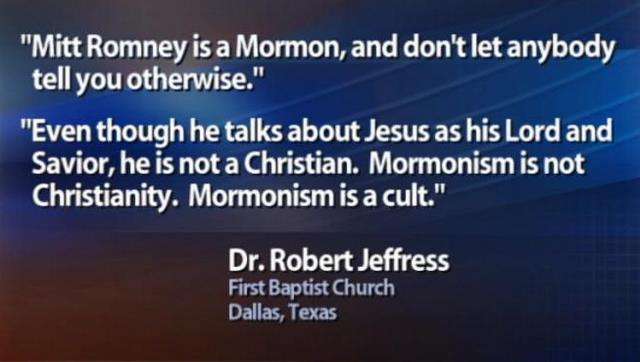 Utah evangelical pastor Rev. Gregory Johnson said, "You say that we're not Christians. Well, we say that you're not Christians, and we've been doing that for 177 years. And I think you need to understand that there really is a larger context. Is Mormonism historically likened unto protestant Christianity? No, there are some pretty significant theological differences."
Johnson and Robert Millet, a BYU religion professor, have for years held joint meetings with members of their faiths to create dialogue about differences and similarities. Johnson does take exception to using the word "cult."
"Here in Utah, and at our conference this weekend, we're looking at Mormonism as a culture. And we're examining the theology and the integration of faith and conversation as a way to get beyond the rhetoric of the past," Johnson said.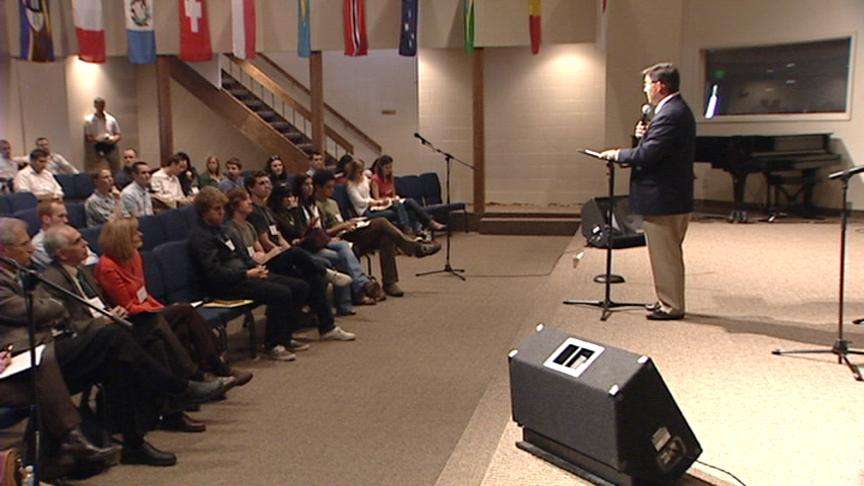 Johnson's "Standing Together" Christian group brought together evangelical and Latter-day Saint college students for a two-day conference. "This is the kind of setting where we open up and we trust each other to share truly what we believe instead of being told it. This is the only kind of setting in which growth can be made," explained Allison Olfelt, an evangelical from Wheaton College.
BYU Student and Latter-day Saint Jacob Farnsworth said, "[It's] just the idea of being about to understand different viewpoints in an increasingly diversified world. Whether it be religion or political, those are two things people say you can't ever talk about, but what's more important to talk about?"
Bob Jones III, a very prominent Christian fundamentalist in South Carolina, recently said he could support Mitt Romney for president. A year ago, Romney invited both Greg Johnson and Bob Millet to Boston to advise him on the religion issue.
Meanwhile, many LDS Church members were angry about Jeffress' comments, others confused. "I don't really understand what it's all about, you know," one woman said.
"I was just getting up and getting ready when I hear this and I thought, 'Oh, and I'm supposed to go to the temple and feel good today?'" Scott Ferrin chuckled.
Ferrin says maybe the Dallas minister just doesn't understand the church's teachings of Jesus Christ. "If you read the Book of Mormon, of course, Third Nephi tells all about the Savior coming to the Earth," he explained.
At the church's recent General Conference, church leaders spoke of how the LDS religion is a Christian religion.
×
Most recent Politics stories