Estimated read time: 2-3 minutes
This archived news story is available only for your personal, non-commercial use. Information in the story may be outdated or superseded by additional information. Reading or replaying the story in its archived form does not constitute a republication of the story.
(KSL News) When your child is in the hospital, daily responsibilities seem less important.
At Primary Children's Medical Center, designated employees spend their days helping families work out those daily details.
Earlier this week, our Brooke Walker gave one of those parent coordinators a High 5.
The Peedle family of Tremonton spends quite a bit of time at Primary Children's Medical Center. It's not an easy situation for any family. But one employee in particular makes it bearable.
In her High 5 nomination, Amy Peedle called this employee, Cindy Warnick, their "helping angel."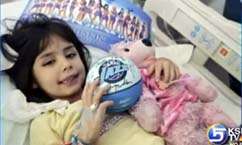 For 6-year-old Aliyah, a day at the doctor's office is routine. When Aliyha was born, her esophagus was in two separate pieces. Twelve surgeries have attempted to correct the problem, but her weakened esophagus will frequently collapse, causing severe acid reflux.
Aliyah is not able to swallow; a feeding tube stays with her 24 hours a day.
Her mother, Amy, said, "As a mom you want to make your kids better. When you can't make it better, and you watch them suffer, you would take it from them a thousand times over before you would have them do it any more."
When Amy's burden feels too heavy, she turns to hospital employee, Cindy Warnick.
"If families need help with food, she gets food vouchers, because it can get expensive. If families need help with the Ronald McDonald home, if they need a taxi, she helps with that. I just feel like she is a great person," Amy said.
Amy also thought Cindy was deserving of a High 5.
"She's just always so bright and willing to help whoever is here, no matter their situation. She listens to the parents, and that has to be hard to listen to those stories day after day. She is never judgmental if you are asking for help. She is so sweet. There are a lot of people in the hospital who deserve this, but I really feel Cindy deserves it," Amy explained.
Cindy said, "These parents are wonderful. They are our angels. To think they have children who are sick, here for months at a time. They are special, special families, and it's my pleasure to be able to work with these families. I couldn't have a better job."
If you would like to nominate someone for a High 5, visit the link on this page.
×
Related links
Most recent Utah stories