Estimated read time: 3-4 minutes
This archived news story is available only for your personal, non-commercial use. Information in the story may be outdated or superseded by additional information. Reading or replaying the story in its archived form does not constitute a republication of the story.
SALT LAKE CITY — With all the attention paid to the new City Creek Center development, a lot of Utahns may be starting to forget what was there before.
But a reminder of the ZCMI Center and Crossroads Plaza is seen by drivers every day.
Alongside an I-80 frontage road at 7200 West, there's a sizable pile of debris from the old shopping malls and other buildings demolished to make way for City Creek Center. During the demolition, rubble was hauled to the site, which is owned by The Church of Jesus Christ of Latter-day Saints. It includes an old refuse dump.
The future of that debris is now under discussion by church officials and the Salt Lake Valley Health Department. The church is crushing the rubble and is currently seeking permission to use it as fill material for the old dump.
Scott Anderson, director of the Utah Division of Solid and Hazardous Waste, said the rubble is so benign it didn't require a state waste permit.
"We've been out and inspected the site," Anderson said. "As far as we're concerned, that's one of the cleanest construction debris sites we've ever seen."
The cleaning up started a long time ago. As downtown buildings were being demolished, anything salvageable was taken out for reuse. Tons of structural steel from old buildings was recycled into rebar for new buildings.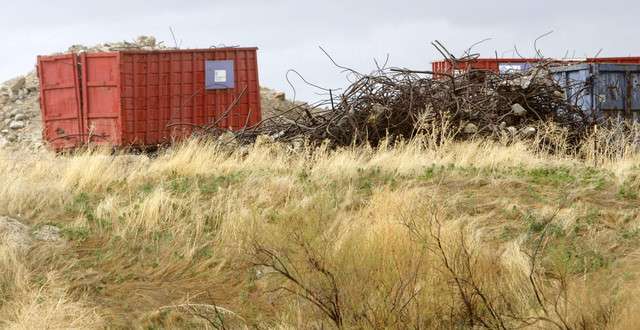 The debris that was left over and hauled to the site near I-80 still has value as fill material.
"What we're talking about here is basically inert construction debris, concrete, rocks and dirt," Anderson said.
Old rebar is being removed from the rubble and the bigger chunks of concrete are being processed into small chunks.
According to a statement from Dale Bills on behalf of City Creek Reserve Inc., "The site was selected, in part, to remediate an old refuse dump. As processing nears completion, the church is requesting approval to leave the fill in place as an asset for future use at the site."
There are ongoing discussions about the timetable, according to Dorothy Adams of the Salt Lake Valley Health Department.
"Our main concern," Adams said, "is that the concrete doesn't remain intact on the property and that the process piles do not remain there indefinitely, that there be some time frame."
She said the fill material is a good thing if it's contoured into the ground to stabilize the land for future use. But if it remains piled as waste indefinitely, it might tempt illegal dumpers to put their own junk there.
"And our experience has been that if you leave solid waste on a property, it just attracts other forms of solid waste as well," Adams said.
Since the rubble does not have potentially hazardous materials mixed in, such as paints and asphalt, Anderson said he has no concern about the material remaining in place.
"We would suggest," Anderson said, "that they spread it out and contour it and cover it so as not to be an invitation to other people to bring their material there. But it's an inert material and, as far as we're concerned, can stay there."
×
Photos
Related stories
Most recent Utah stories