Estimated read time: 2-3 minutes
This archived news story is available only for your personal, non-commercial use. Information in the story may be outdated or superseded by additional information. Reading or replaying the story in its archived form does not constitute a republication of the story.
Courtney Orton Reporting An October snow storm made for a rough ride this morning on canyon roads. Two tractor-trailers jackknifed on I-80 just east of Parley's Summit causing some major delays. And slick roads contributed to a four-car pileup on S.R. 6 in Spanish Fork Canyon backing up traffic for miles.
The two tractor-trailers jackknifed early this morning. The Utah Department of Transportation anticipated the storm and had snow plows on deck, but once the traffic started backing up during the morning commute, the snow plows had a hard time getting through. UDOT says the tractor-trailers were driving too fast, didn't have chains, and were to heavy.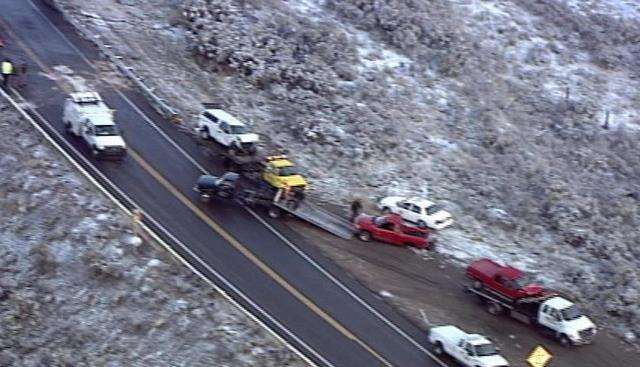 Slick roads caused problems on S.R. 6 in Spanish Fork Canyon as well. Four cars collided on a bridge between Soldier Hollow and Thistle. The crash caused slowing for miles, and for a time shut down traffic in the area. At least one person was seriously injured.
UDOT says bridges can be scary in weather like this because they freeze very quickly. "Bridges are even more susceptible to freezing. I mean, you have a bridge and you basically have cold air, freezing temperature on top, the moisture on top and on the bottom. So, the road temperatures tend to get colder bridges faster than any other road because of the way they're built. And so yes, people need to be really careful especially when driving over bridges during winter conditions," explained Adan Carrillo, UDOT spokesman.
This morning's bad roads were really the first in what undoubtedly will come as we ease into winter.
UDOT keeps its eye on the roads with sensors that are placed underneath the roads under the asphalt. They measure the temperature of the roads and then can determine what mixture, either salt or sand, to put on the roads to help drivers.
- - - - - -
×
Related links
Most recent Utah stories