Estimated read time: 2-3 minutes
This archived news story is available only for your personal, non-commercial use. Information in the story may be outdated or superseded by additional information. Reading or replaying the story in its archived form does not constitute a republication of the story.
DRAPER — Two teens, who sang to help rescuers locate them, were reunited with their parents after spending a very cold night on a ridge in Draper's Corner Canyon.
Nathan Tolman, 18, and his sister Allison, 16, were reunited with their parents Friday morning. It was an emotional reunion. Allison couldn't hold back the tears as she hugged her parents.
"I'm pretty good," Nathan said. "Relieved to be off the mountain."
The siblings had started hiking early Thursday to Lone Peak, said Unified Police Lt. Justin Hoyal. They almost reached the top before turning around and walking down.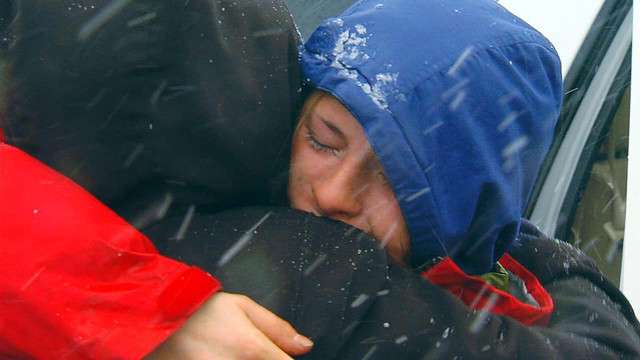 On the way back, however, they got off the trail and got lost, Hoyal said. By 4 p.m. they called their mother on a cellphone and told her they were lost. At that point, they found a water source and tried to follow it down the mountain, Hoyal said. But that put them even farther off the trail.
Just before 10 p.m. the siblings called Carolyn Tolman again and told her they were very lost. She called police, which mobilized the search and rescue unit.
Carolyn and her husband, Derek Tolman, waited anxiously in their car while rescuers tried to find their children.
"You never think it's going to be you. You think about these things all the time," Derek Tolman said.
Using a helicopter and GPS, rescuers found the siblings by 11 p.m. A crew then hiked up to the brother and sister and reached them by 3:20 a.m. Friday.
---
You never think it's going to be you. You think about these things all the time.
–Derek Tolman, father of rescued teens
---
The duo was in thick brush way off the main trail, Hoyal said. The teens had prepared for a full day in the mountains, but were not equipped to handle the heavy snowfall that began Friday morning. Both suffered from hypothermia after walking through water.
Rescue crews took supplies to warm up the two hikers and hydrate them before starting the hike down the mountain.
Dan Hadley and Greg Davis were the two rescuers who reached the teens first. Davis said they were guided to the duo by song. "They were trying to sing to help us find them," Davis said.
He said the two were in good spirits and even talked about homework as they made the three-hour trek down the mountain in the snowstorm.
The parents said they couldn't express enough gratitude toward the rescuers who brought their kids home safely. The rescuers say it's seeing a happy ending that makes it worth it.
"It's always great," Davis said. "It's part of the reason you do it."
Contributing: Andrew Adams
×
Photos