Estimated read time: 2-3 minutes
This archived news story is available only for your personal, non-commercial use. Information in the story may be outdated or superseded by additional information. Reading or replaying the story in its archived form does not constitute a republication of the story.
SALT LAKE CITY — Fields are so dry this year that some farmers want to get started irrigating their land weeks earlier than usual. But that doesn't mean they'll all get the water they want.
Dave Hinckley here can take water whenever he wants it from the Jordan River. Others have to wait for someone else to make the decision. As always, there's a balancing act between using water, and conserving it.
Both a farmer and a rancher, Hinckley isn't ready to start irrigating this field yet, but he's getting close. He said the contrast with last year's mud and water is utterly unbelievable.
"You can get too much just as quickly as not enough," he said.
It's about as dry as he can imagine for this time of year. If you dig down an inch or two, there is moisture from last year. But the top is drying out. Hinckley has started irrigating his fruit trees because they need the water now.
"I'd love to get an inch of rain and I wouldn't have to irrigate," he said.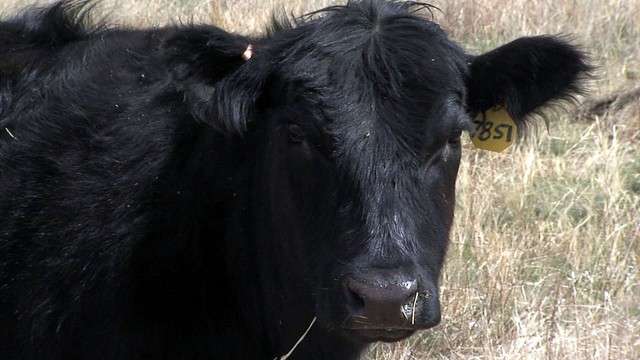 The line between too much and not enough is extremely thin. Hinckley said that inch of rain would be great for his crops, but two inches would ruin them.
Hinckley has cows too, west of the Salt Lake airport. Last year they battled mud. This year, it's a dry as a cow skull in the desert.
That's not all bad - when the calves are coming, it's an advantage to have dry fields. "It's been marvelous, calving cows."
"I think it's nature, so (the dryness) is good. And we can't affect it. We can't change it. We can adjust and exist."
Depending on what they grow and what their fields are like, some farmers are content to wait, others want their irrigation water now.
"But they're very cautious in trying to use their water early because they know that the water is even more precious later in the summer," said Tage Flint, general manager of the Weber Basin Water Conservancy.
WBWCD will turn loose water for farmers in the Northern Wasatch Front toward the end of April, even though some farmers have asked for it earlier.
"It's very difficult for us to gear up the entire system for just a few users. By and large most of our farmers are willing to wait until the normal time," Flint said.
×
Photos
Related stories
Most recent Utah stories