Estimated read time: 3-4 minutes
This archived news story is available only for your personal, non-commercial use. Information in the story may be outdated or superseded by additional information. Reading or replaying the story in its archived form does not constitute a republication of the story.
VERNAL — Officials with Utah Phosphate Co. held an open house Tuesday that drew more than 200 Uintah County residents, and it didn't take long for the fireworks to begin.
"I want to know where you live and where your kids go to school, because I want to put a toxic waste dump next to your house," one man told Paul Poister, the company's government relations manager.
"This is personal," the man added.
Utah Phosphate, a subsidiary of the Canadian firm Agrium Inc., isn't looking to build a toxic waste dump in the county. Company officials say they just want to study whether it's feasible to develop two mining leases on property owned by the Utah School and Institutional Trust Lands Administration near the base of Taylor Mountain northwest of Vernal.
"(The project) in the very preliminary stages," said Chris Wilde, director of business development for Utah Phosphate. "We just bought the leases. The sale only closed just barely a month ago."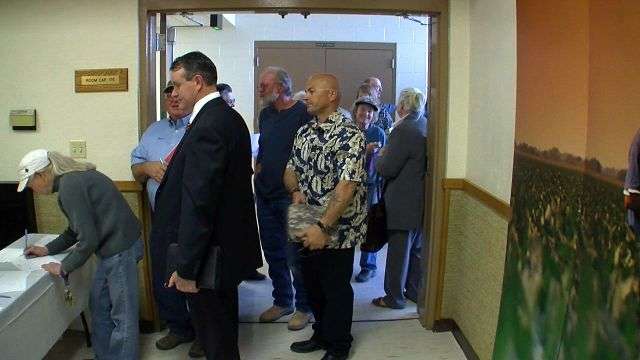 #hearing_pic
Those leases, however, are located on parcels that sandwich Ashley Spring, which is why area residents and water managers are concerned about the proposed mine.
"It is our sole source of water for our treatment plant, which is at the mouth of Ashley Gorge," said David Hatch, district manager of the Ashley Valley Water and Sewer Improvement District.
"It is also the source for the Central Utah (water treatment) plant that serves Vernal," Hatch said. "So this spring serves all of the valley, even Jensen and Maeser."
The water in the spring comes from Dry Fork Creek. It sinks into a subterranean limestone formation, and resurfaces in Ashley Gorge. Because phosphate mining typically involves blasting, Hatch said conducting such operations near the spring could damage the limestone formation and compromise the water supply for about 10,000 people.
"Something could collapse in there and make the spring dry up," Hatch said. "The blasting could create fissures where anything from the surface from the mining could run down and into the aquifer the water transfers to."
If it's built, the mine would literally be in Arlene Thomson's backyard. Her property borders one of the leased areas.
"They say they wouldn't be loud explosions, but what is said and what is done are two different things," she said. "I'm afraid that continuous blasting will affect the water."
---
They did say they wouldn't be loud explosions. But what is said and what is done are two different things, and I'm afraid that continuous blasting will affect the water.
–Arlene Thomson, Uintah County resident
---
Thomson is also concerned that the explosions might damage Fremont Indian petroglyphs in neighboring Dry Fork Canyon, and that mining operations will limit access to public land on Taylor Mountain.
"And there would be grazing rights that would be impacted," she said. "I think there's more to lose here than there is to gain."
But Wilde said many of the fears expressed by community members are based on "assumptions that may or may not be correct."
"Some of the things I've heard today were probably exaggerations," he said. "It's our job to communicate to the people what will actually happen if the mine goes ahead."
The company plans to drill 10 to 15 test holes on the leased property by mid-summer to help determine the quality of the phosphate reserves. It promised to assess any drilling done be previous leaseholders and remediate those areas according to state and company standards.
Even if the company determines that the sites are financially and environmentally viable for development, Wilde said mining wouldn't actually occur until "well into the next decade."
"It's a rather long process and it's a staged process," he said. "At each stage we have to look at it and say does it make sense, is it viable and is it going to proceed."
"Consultation with the community is a very important part of this process," he added.
But Thomson said regardless what Utah Phosphate's site surveys show, if the company tries to open a mine near Ashley Spring, "they will definitely have a fight on their hands."
Email:gliesik@ksl.com
×
Related links
Most recent Utah stories