Estimated read time: 2-3 minutes
This archived news story is available only for your personal, non-commercial use. Information in the story may be outdated or superseded by additional information. Reading or replaying the story in its archived form does not constitute a republication of the story.
Gene Kennedy Reporting A new charter school is coming to a neighborhood in Bluffdale next year. But some residents are asking, "Why does it have to be in my backyard?"
The school is called Providence Hall. About 750 students will go there next fall. Many are excited. Those who aren't say the issue isn't the school; it's location, location, location.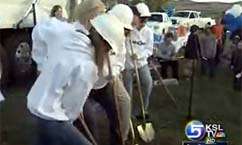 At Monday evening's ground-breaking, one side of the street looked very different from the other. People on one side said, "No school! No school! No school!"
But not everyone shares that feeling. Rex Howard said, "I'm really excited about the facility being here and the opportunity to have choice for our son to go to school."
On the other hand, some say a dead-end street in a neighborhood is no place to build a charter school, especially when there's a middle school at the other end of the street.
Resident Robert Pixton said, "We probably have at most 75 to 100 cars a day, and now we're going to have 500 to 600 cars twice a day."
Another resident, Beth Lovendahl, said, "I mean, any public school in the valley you're going to find in a subdivision."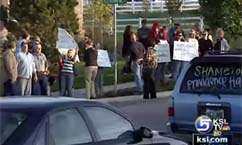 The school's president, Tom Pitcher, said, "We've been through this process enough times to know that neighbors are initially upset, but once the project is in and the school is functioning, it works."
Pitcher admits no one did a traffic study in the neighborhood. And residents say they never even heard about plans to build a school. Neither did the Bluffdale City Council.
Council member Martha Speed said, "I never heard. The planning commission never heard. I understand that apparently there's a law now and they don't have to be good neighbors. It would have been nice."
But Pitcher said, "We did go to city staff immediately before we put the land under contract." He says that was about three weeks ago.
The developer bought the land from a private owner. And the law says charter schools can be built without going through city council or the planning commission for zoning changes. Still, we asked the school's president, given the protesters, any chance you'll put the school elsewhere?
"No, we're not planning to. The reason is, we could have similar complaints in any neighborhood we go to," he said.
Plus, the school's president says charter schools can't afford commercial land, only residential. It's growth versus staying rural, and in this case growth wins the debate.
×
Most recent Utah stories