Estimated read time: 6-7 minutes
This archived news story is available only for your personal, non-commercial use. Information in the story may be outdated or superseded by additional information. Reading or replaying the story in its archived form does not constitute a republication of the story.
UTAH STATE PRISON — One of Ogden's most notorious serial rapists apologized Tuesday to the eight teen girls and adult women he raped 15 years ago.
"I am so sorry for the pain and torment I put you through," Jason Brett Higgins said, calling his actions "cowardly, disgusting and violent."
But Rebecca Mills, who had barely turned 16 when she was raped by Higgins at knife point in October 1996, beginning what would become a string of abductions, rapes and sexual assaults that would terrorize the Ogden and Roy area for five months, said she didn't believe his apology was completely sincere.
"I don't know what to think about it yet," Mills said right after the hearing. "I don't know if he's truly, truly sorry or saying what he needed to get out. … It was hollow."
Mills was the only victim who made an appearance at Higgins' parole hearing. But Higgins apologized to all of his victims.
"I made good and decent people feel afraid to go out at night," he said. "I hate being (in prison), but I know at this point it's exactly where I need to be."
Details of the hearing
Don Blanchard, a part-time hearing officer and former longtime member of the Board of Pardons and Parole, agreed, noting that he did not believe the full board would vote to set a parole date. Rather, he expected another hearing for Higgins would be held "in at least five years or more" to review his status.
A psychosexual evaluation conducted for the hearing concluded that Higgins' risk to reoffend had decreased since his conviction, but it was still high enough that he would likely commit another offense if he were released today, Blanchard said.
---
Between October 1996 and March 1997, Higgins grabbed young girls and adult women who were walking or jogging alone and raped or sexually assaulted them. Many of his victims were between the ages of 14 and 16.
---
Between October 1996 and March 1997, Higgins grabbed young girls and adult women who were walking or jogging alone and raped or sexually assaulted them. Many of his victims were between the ages of 14 and 16.
Higgins was convicted in 1998 for nine rapes or sexual assaults of eight girls or women. He was given several one-to-15-years and 15-years-to-life sentences to run concurrently and consecutively. A judge ordered two of those 15-to-life sentences to run consecutively, essentially giving him a 30-years-to-life sentence.
Tuesday was Higgins' first parole hearing since his conviction.
Higgins, 39, cried as Blanchard gave a brief summary of all of the attacks. He described how Higgins, typically after he got off work or early in the morning, would spot females walking or jogging alone, wait until they were in an area with no one else around, and then grabbed them from behind and raped them. In some cases he punched his victims in the mouth before raping them and in others he threatened to harm them if they shouted.
"That was hard for me to listen to," Higgins said when Blanchard was done. "I can only imagine how the victims felt having to listen to that. … I wish at that time I had the clarity I have now to see the impact of that harm."
When asked how many additional victims there were who did not report their attack to police, Higgins said there were two other girls that he had grabbed but for a reason not disclosed at the hearing, let them go without raping them. He said he was charged for every victim he assaulted.
Victim shares her story
Mills, 31, and her mother, Catherine Liston, cried as they listened to the graphic details of each attack. Then Mills got her turn to speak to Higgins. It was the first time she had the chance to tell publicly how horrible her life had been the past 15 years because of his attack.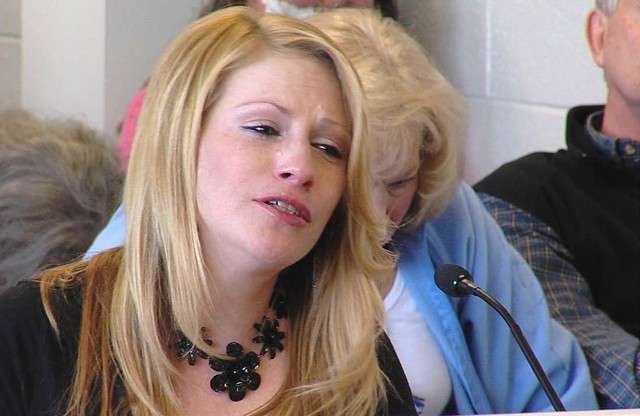 "I became so angry because I have to live in fear everywhere I go. I couldn't deal with it, so I turned to drugs," she said. "Putting a needle in my arm made it all go away. … I was so lost. All I cared about everyday was trying to get high so I didn't have to think about the horrible things going through my head."
Higgins also broke down in tears as he listened to Mills describe how she gave up two scholarships after high school and instead became a heroin addict. She has been sober now for a little more than two years.
"I didn't ask for this," Mills told Blanchard. "The only closure I get is for him being in here. Words can't describe how angry I am because he stole the past 15 years of my life and it's been hell."
Higgins personally apologized to Mills and praised her courage "to come here to face this unknown attacker who's tormented her the past 15 years of her life."
"It wasn't her fault. She didn't ask for that. I wish I could take back the hurt and bring back the promise of a great future she had," he said.
Related:
But after the hearing, Liston said her daughter was serving her own life sentence and that Higgins' apology was self-serving.
"It feels more like, 'I'm sorry I got caught,'" she said.
Part of the reason Mills wanted to speak at the hearing was so she could regain control of her life and her "power" and begin a new chapter in her life. She said she started to feel that leaving the prison because, "he's in shackles and I'm not."
An apology
At the conclusion of the hearing, Higgins read a prepared statement, which included a list of apologies to many people, including his victims, his family and the Ogden community. He said that when he uses the words, "I'm sorry," "I've never meant them more in my life."
"I would do anything to take back what I've done," he said. "From the depths of my soul I'm sorry."
After Mills and her family left the room, Higgins broke down and cried harder. He then turned to address a group of his family members, including his father, mother and grandparents, who were also at the hearing.
"I'm sorry you had to listen to that," he told them before waving goodbye.
---
While we too feel the need for justice, we also hope that all his many positive changes and growth will be acknowledged mercifully.
–Vickie Hopson, Higgins' mother
---
Higgins' mother issued a statement later Tuesday on behalf of his family, saying their thoughts and prayers go out to the victims and their families. "Their strength and courage displayed in their efforts to finally move forward and put their lives together is inspiring," Vickie Hopson wrote.
"We too have had our own difficulties over the years as we are victims also. However, we also had the benefit of standing by Jason through his depression and genuine remorse as he willingly accepted the responsibility of his actions and his determination to overcome the many challenges triumphantly," she said. "He is not the same confused person he was 15 years ago. While we too feel the need for justice, we also hope that all his many positive changes and growth will be acknowledged mercifully. It is our belief that we cannot move forward if we carry hatred in our hearts."
Blanchard will now give his report to the full board of pardons, which will make a decision about whether to grant a parole date or set another status hearing.
Contributing: Sandra Yi
×
Photos
Related stories
Most recent Utah stories