Estimated read time: 2-3 minutes
This archived news story is available only for your personal, non-commercial use. Information in the story may be outdated or superseded by additional information. Reading or replaying the story in its archived form does not constitute a republication of the story.
John Hollenhorst Reporting One state has banned poisonous bullets. That may sound a bit strange, but this weekend California Governor Arnold Schwarzenegger signed a bill outlawing lead ammunition in some areas.
Lead ammo is toxic to the nearly extinct giant condor. Now a move is afoot in Southern Utah for a voluntary ban.
Schwarzenegger stood up to pressure from the pro-gun lobby to protect the condors. In Southern Utah officials are proposing a halfway measure, reimbursing hunters who voluntarily use non-toxic ammunition.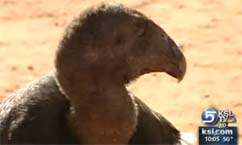 The nation's largest bird doesn't need to get shot to die from lead bullets. Most hunters use lead ammunition. At least a dozen condors in Utah and Arizona have died after eating dead animals shot with lead.
Kirk Robinson, of Western Wildlife Conservancy, explained, "It harms the nervous system and various internal organs. It can lead to death."
In the early 1990s, only 22 condors existed. They were rescued from extinction by a breeding program in zoos. Fifty-nine condors now fly free in Southern Utah and Northern Arizona. As many as 18 or 20 may have died from lead poisoning.
"I think the best thing would be to ban the lead bullets, definitely," Robinson said.
That's what Governor Schwarzenegger and his legislature just did in parts of California where condors live. It's not a popular idea with some Utah hunters.
Deer hunter Marvin Perry said, "What they're trying to do is stop all hunting. You start that and there's going to end up being a lot of fight from all of us. All hunters is going to band against it."
Utah wildlife officials hope to create a voluntary no-lead program. It would be localized around condor habitat near Zion National Park. Hunters who use more expensive non-toxic bullets would get coupons and be reimbursed by the state.
But some wildlife advocates want a broad, mandatory ban on lead ammo to protect other species not in the hunter's gun sight.
Robinson said, "Potentially bears as well will eat gut piles left by hunters or carcasses of deer that aren't found."
In Arizona the voluntary program has been in place for three years. About 60 percent of the hunters in Northern Arizona have willingly complied.
By the way, lead shot has been banned nationwide since 1991 for hunters going after waterfowl.
×
Most recent Utah stories