Estimated read time: 3-4 minutes
This archived news story is available only for your personal, non-commercial use. Information in the story may be outdated or superseded by additional information. Reading or replaying the story in its archived form does not constitute a republication of the story.
SALT LAKE CITY — A spectrum of religious leaders and political candidates gathered Friday with a few hundred people in front of the Matheson Courthouse for a rally against the federal government's so-called "contraception mandate" announced in January.
On the day that marks two years since President Barack Obama signed the health care reform bill, members of Catholic, Anglican, LDS and other Christian faiths called the law's requirement that health insurance companies provide contraceptives to employees of religious organizations a violation of their freedom of religion.
---
We are here to demonstrate that our government cannot force (people) to violate their conscience.
–Rev. Darin Lovelace, St. John's Anglican Church
---
"We are here to demonstrate that our government cannot force (people) to violate their conscience," said the Rev. Darin Lovelace of St. John's Anglican Church in Park City.
"We as a religious community and as a faith people must — and I say must — work together regardless of our denominations," to defeat the contraception mandate, said Pastor Chris Crowder of the Christian Life Center in Layton.
Rally organizers say similar gatherings are being held in 110 cities nationwide.
"I'm showing support for this opposition for a mandate that's being shoved down our throats," said Jerry Miller of Roy, a Catholic.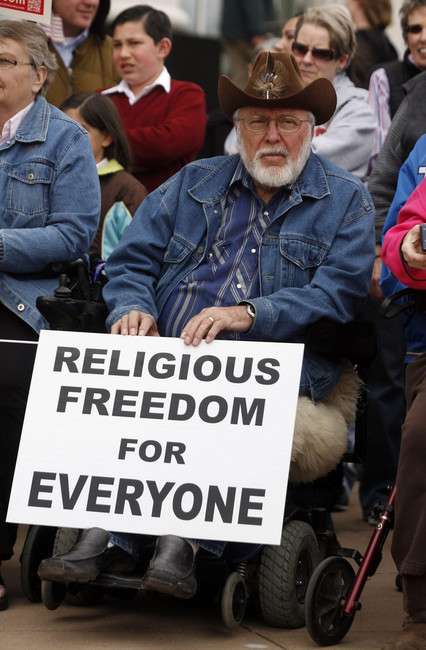 "To see the variety of speakers here today, it blesses my heart," said born-again Christian Martha Cardon of Cottonwood Heights. "It's not just about one denomination or group that needs to stand against our government today."
"I believe with a lot of prayer and with a lot of hope and some good attorneys, we will overturn Obamacare," said Carl Wimmer, a Republican candidate for the 2nd Congressional District.
Wimmer told the crowd that it's not a coincidence that two years ago on March 22, Gov. Gary Herbert signed Wimmer's bill to exempt Utah from the health care reform law, just a day before Obama signed it.
The Utah law is what gave the state standing in federal court to challenge the constitutionality of the health care reform law, according to Wimmer. And U.S. District Court Judge Roger Vinson extended that standing to 25 other states, Wimmer said.
The U.S. Supreme Court will hear three days of oral arguments beginning Monday in the challenge to the health care law.
Tim Chambless, a University of Utah political science professor, said the "contraception mandate" issue began as a administrative procedural ruling issued by U.S. Department of Health and Human Services on Jan. 20.
Presidential candidate Rick Santorum, a Catholic social conservative, took it up as a First Amendment religious freedom cause, but it's largely come off the political frontburner after the Obama administration issued a clarification about a week later largely exempting religious organizations, Chambless said.
The "accommodation" exempts religious employers from having to provide contraception coverage, but an employee's insurance company must offer contraceptive care if requested.
Related:
The timing of the rally with the second anniversary of Obama's signing of the Affordable Care Act and the Supreme Court's hearing of oral arguments on the law's constitutionality next week, makes it a good time to try to get the controversy politically front and center again, he said.
Polling data show that women are less against contraception provisions of health care reform than men, Chambless added.
"Women more than men will see this as more of an issue of privacy and access to contraception," he said. "Women get pregnant, and women have the babies," so access to contraception is more important to them.
There are more women than men in the population and women vote more than men, he noted.
"This issue really has helped the Democrats," he added. "We don't see the (Republican) candidates talking about this.
"Additionally, polling data show the vast majority of Catholics, in contrast to the Catholic church, favor contraception," Chambless added.
With six Catholics, three Jews, three women and no Protestants on the Supreme Court, it will be interesting to see how their ruling plays out on the constitutionality of the health care reform law, he said. The ruling should be issued sometime in June.
Email:lbrubaker@ksl.com
×
Photos
Related stories
Most recent Utah stories